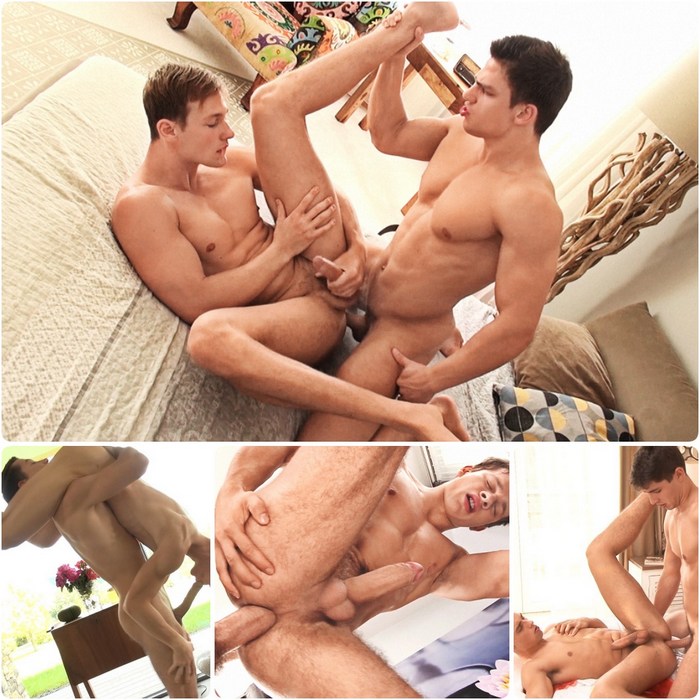 Hot gay porn scenes from BelAmi this week: Muscle hunk Steve Skarsgaard fucks Marcel Gassion, cutie Alan Mosca bottoms for Antony Lorca, hunky bottom Bob Marghiela gets fucked by Kieran Benning, and Balaton BootCamp the X-rated behind the scenes documentary.
We all know that Marcel is turned on by big dicks, but today we also find out that a big body is also a great turn on for him. He has been trying to set up this scene with Steve for quite a while, but as we think of Steve also a primarily a bottom, the scene kept getting pushed back. Luckily for Marcel the time has finally come, and he is super hard just in anticipation of getting fucked by one of the men of his dreams.
+ Steve Skarsgaard Fucks Marcel Gassion
Sometimes relationships are all about compromise. Alan may snore, hog the blanket and steal the pillow, but all seems fine for Antony as long as Alan is happy to prepare a nice healthy breakfast. Unfortunately for Alan, and just like Old Mother Hubbard, this morning the cupboard seems to be bare. On the positive side, there is something else that Alan has to give his buddy that is even better.
+ Alan Mosca Bottoms For Antony Lorca
Today we have another documentary treasure from the 1st season of BootCamp as we show you the boys settling into their accommodations and getting ready for the action that the day will hold. Although the 1st season of 'Hungarian Goulash' has appeared here only twice, it will return in a couple of months as a regular feature when we start season 2.
+ Balaton BootCamp: Behind The Scenes
We admit that it was a bit tough of Lukas to expect the boys to have to assemble their own bed before fucking on it, so we totally sympathetic with Kieran and Bob when they decide 'making the bed' is way too much hard work, and would delay their fucking too long. Fortunately, Lukas is just as adept at filming sex on the sofa as he is at filming it on the bed, and the boys are able to get off without having to do any of the heavy lifting. When it comes to the sex here, we can see why the boys didn't want to delay. The oral is great, the rimming, hungry and the fucking has an appealing urgency to it as Bob repeatedly impales himself on his buddy's hard dick.
+ Bob Marghiela Gets Fucked By Kieran Benning