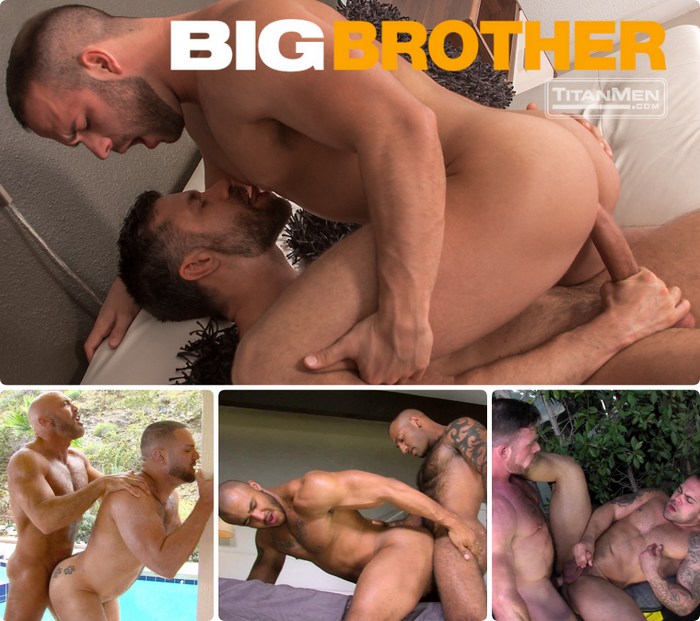 Back in March, I posted some behind the scenes pictures from the set of Titan Men where muscular gay porn star Jason Vario bottoms for Daymin Voss. It's the scene we have been waiting for. Well, the wait is almost over. After 6 months, TitanMen finally released the XXX trailer of its upcoming movie BIG BROTHER. I can't wait to watch Jason Vario get his muscled butt fucked in this movie.
BIG BROTHER features 8 gay porn stars: Jesse Jackman, Jason Vario, Luke Adams, Tristan Jaxx, Lorenzo Flexx, Liam Knox, Daymin Voss & Julian Knowles. The first scene Tristan Jaxx fucks Luke Adams is now online.
BIG BROTHER: Hot New #GayPorn Movie from TitanMen @JasonVarioXXX @dayminvoss @JesseJackmanXXX @LiamKnoxXXX @Lorenzoflexx @JulianKnowlesX @LukeAdamsXXX @djtristanjaxx

FULL TRAILER ? (https://t.co/xzZhB3xKJr) pic.twitter.com/6CV8xyT6vT

— Queer Me Now (@QueerMeNow) November 15, 2017
Need a spot? Some muscles for manual labor? A lesson in home improvement? Your Big Brother is always there with a strong helping hand. Get your guy time in with TitanMen exclusives Lorenzo Flexx, Jesse Jackman and Liam Knox, who bring male bonding to a new level. Tristan Jaxx arrives to pick up Luke Adams for some gym time, but gets distracted by the jockstrapped stud's impressive assets. Daymin Voss oversleeps—but still manages to get his workout in when bud Jason Vario wakes him up for some personal training with a heavy weight. The sweat builds for landscapers Jesse Jackman and Julian Knowles, who cool off in the pool before things heat up again as their woodwork gets harder. Apprentice Lorenzo Flexx gets a jolt from electrician Liam Knox, who gives the bright-eyed, blue-collar stud some special instruction with his unit.
Luke Adams Cums While Getting Fucked By Tristan Jaxx in BIG BROTHER @TitanMen @LukeAdamsXXX @djtristanjaxx @doctorjasun

MORE ? (https://t.co/YQUVU273MV) pic.twitter.com/e06TLHA9NV

— Queer Me Now (@QueerMeNow) November 15, 2017
Luke Adams gets caught in his jockstrap by gym bud Tristan Jaxx: "Damn dude, that's a big ass." Tristan fingers the jock's muscle butt, slapping it as they smooch. Luke grabs the big bulge in Tristan's shorts, the tent pole grinding against him. Luke frees the beast ("Fuck, dude! Holy shit!"), sucking it deep before Tristan wraps his scruffy lips around the smooth stud's thick boner. Tristan eats him out and pounds him from behind. Luke sits on it, his own pole slamming up against his stomach. "I love that big dick!" he moans on his back, slamming his own cock against Tristan's abs. The top shoots a monster load on Luke, rubbing it into his stomach and feeding it to him.
+ Tristan Jaxx Fucks Luke Adams in TitanMen's BIG BROTHER
PREVIOUS POST: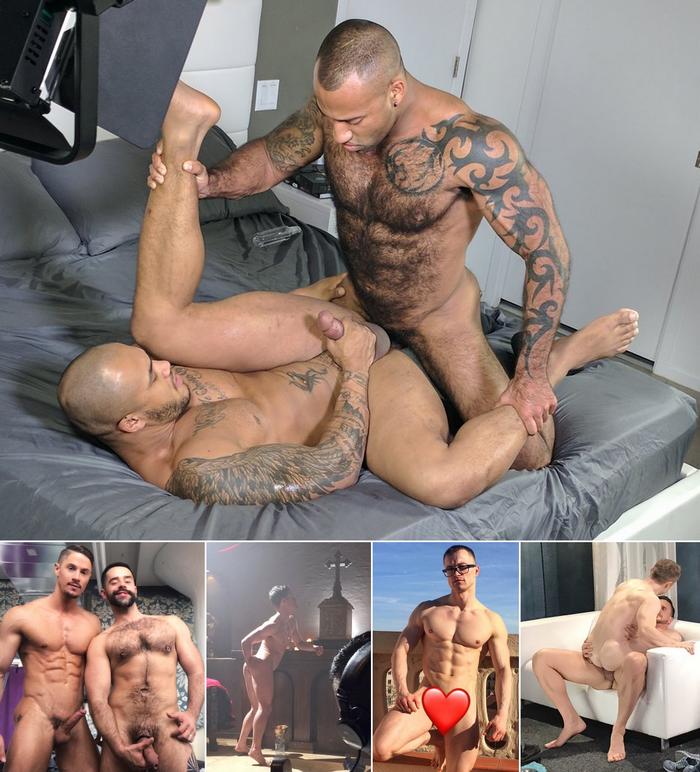 + Porn Sneak Peek: Jason Vario, Daymin Voss, Skyy Knox, Dakota Rivers, Ashley Ryder, Teddy Torres, Dani Robles