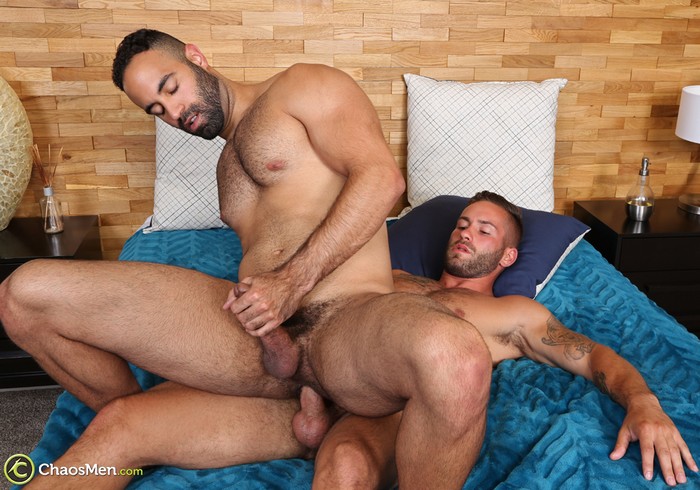 ChaosMen first introduced this handsome newcomer Bronson in his solo video a couple of months ago. This week he's back for his first ever gay anal sex scene with Lorenzo. I hope he will make his bottoming debut soon but for now, check out this new scene Bronson fucks Lorenzo bareback.
Bronson is a little muscle power house with some bad ass tatts and an amazingly handsome face. He has done photoshoots, and even has done artistic sketch classes fully nude, aroused, and I thing even ejaculating for a class. I haven't ever heard of art drawing classes going so far, so I hope he was paid well for the live show!
Bronson's sexual activity with dudes was really just art and photo shoots. No actual contact. With his hot body, I figured he would appreciate working with Wright. Sometimes the straight guys get into a little homoerotic body worship, that is close to being a chemical attraction. There is a significant difference in height between the two guys, but at 5'5″, Bronson will likely be quite a bit shorter than his partners. Still, I think these two look extremely hot together.
Bronson Fucks Lorenzo Bareback In His First Anal Sex Scene #GayPorn #ChaosMen

MORE ? (https://t.co/BEi3xcnGjM) pic.twitter.com/CP4JybDS8B

— Queer Me Now (@QueerMeNow) October 11, 2017
I put him with Lorenzo because he is the most laid-back model, plus their body sizes matched. And Lorenzo is patient amd he loves the idea of these straight guys exploring with him for the first time. We start simple with Lorenzo giving him head. It took Lorenzo some effort to get him hard, while Bronson would look nervously around the room at me or the porn playing. I finally told him to just make Lorenzo his bitch and get dominant. I think that is what triggered his cock. With girls, these guys know they can be bossy, but with another guy, they just aren't sure what role they need to get into. But having him take charge really worked great.