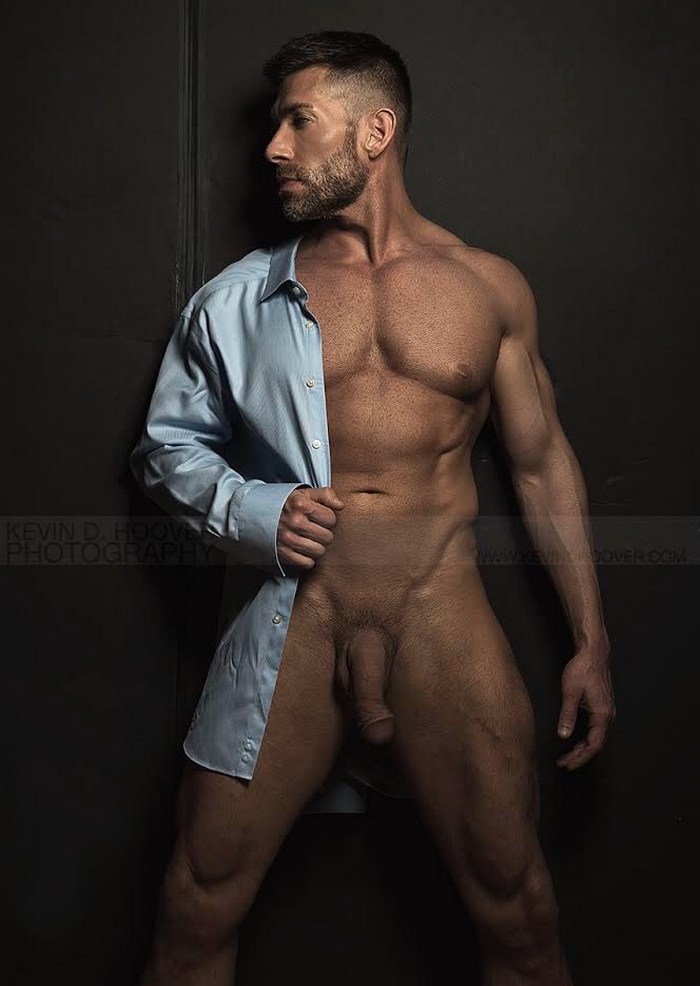 Gay porn star Bruce Beckham finally made his bareback debut in his latest sex scene on Men.com fucking hung Michael DelRey raw. Queer Me Now has exclusive interview with Bruce Beckham to let you guys know about his decision to go bareback, his experience in the adult industry, how it changes, HIV stigma, PrEP, his personal safe sex choices, and more.
Be sure to follow Bruce Beckham on Instagram, Twitter, and OnlyFans
Why did you choose Men.com to be the company you shot your first ever bareback scene with?
I've had really great experiences working with Men.com this past year, specifically with Paul Wagner and Marc MacNamara, so it was a very comfortable decision to work with Men on my first condomless scenes.
How was it like filming raw scene with Michael DelRay?
I met Michael this September at an awards show in LA. He's crazy in an unapologetic way, which I really respect, so we hit it off well. He's a total professional.
Any funny or memorable moments during the production?
Just the premise was so ridiculous… my Stepdad character was to have mistaken Michael's ass for my wife's, sticking out of a comforter.
Hopefully "Get Your Dick Outta My Son" will be this year's "Not In Front of My Salad."
Do you have plan to shoot more bareback scenes with other studios?
I think it's the part of progressive trend toward de-stigmatizing sex, and continuing to have modern, informed conversations about what is "safe sex' in 2019.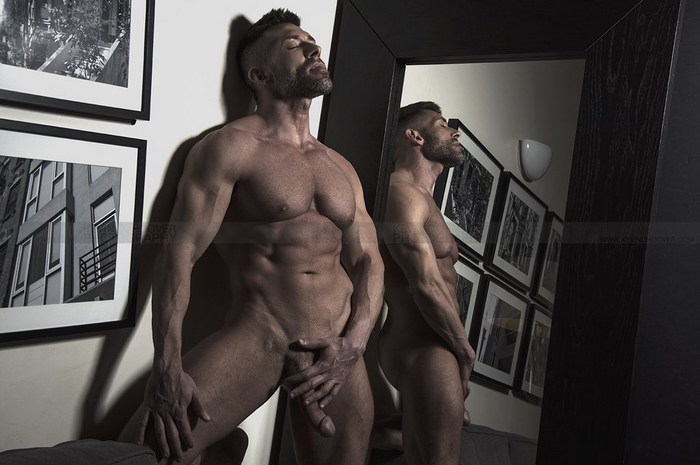 Back when you first started in the adult industry, how was the opinions of models and studios toward condomless sex?
Back in 2007, before PrEP, almost all upper tier porn was with filmed with condoms. I recall the attitude being that it was almost an obligation of adult film to inform safe sex practices. I still think that attitude is largely true, just that the parameters have changed.
And how have safe sex parameters changed?
In 2019, PrEP can effectively reduce risk of HIV transmission by over 90%, and we now know affirmatively from the CDC that an undetectable viral load means HIV is untransmittable form that individual. Literally, when anti-retroviral therapy results in viral suppression (less than 200 copies) it prevents sexual HIV transmission. That's directly from the CDC. So on one hand, that whole area of risk has been greatly diminished.
It IS important to remember though that PrEP only protects against HIV transmission, so there needs to be a solid game plan in place to reduce risk from all other STD/STI.
Do you think the HIV stigma and discrimination has changed this past decade?
I'd like to think that as the science becomes common knowledge, stigma and discrimination are eroding. Being HIV negative, I haven't personally experienced a lot of the stigmatization my HIV positive friends have, but I will say without hesitation, HIV status plays no part in my personal choices in boyfriends, sex partners , or scene partners. I wouldn't hesitate to date, sleep with, or film with someone positive.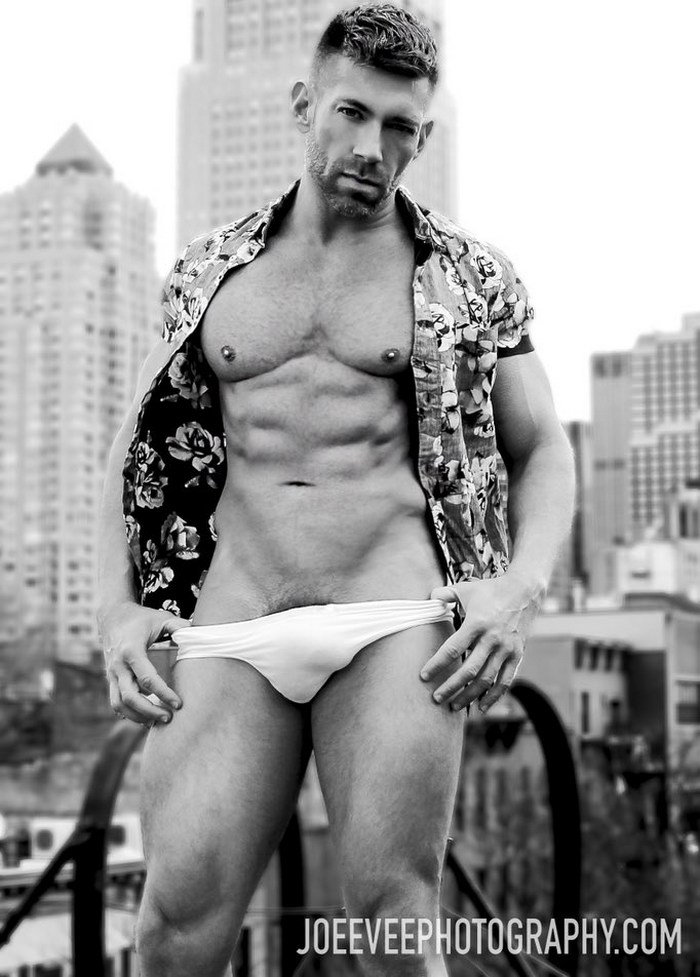 What's your opinion regarding PrEP?
I think it's a Godsend, provided it's used as prescribed and you take it with full compliance to your Doctor's instructions.
Could you tell us more about your personal safe sex choices?
In my personal life, when I hookup, I always have a lucid conversation before sex about my status and recent testing for STD/STI, and form a responsible game plan based off my and their answers. I take my PrEP with full compliance, and I tested every 6 weeks for HIV and all other STD/STI as part of a Gilead study I'm enrolled in.
In filming, I'm only filming condomless scenes with companies that test models for STD/STI as stridently as Men.com does. I'm tested a week prior, as well as the day before filming, which provides a greater degree of surety that I'm not transmitting anything to my partner and vice versa. It's not a 100% guarantee, but it's as responsible as possible in 2019 beyond being abstinent. Taking condoms and anal off the table, you can transmit Gonorrhea giving or receiving head, so testing and knowing your results is professional, responsible, and considerate.
Do you have advice for new guys who want to get start in the industry?
I always ask guys WHY they want to do adult film. Most say "fame and wealth"… which isn't likely to happen. I do think it's a great way to explore your sexuality or have second income to pay for schooling, but I recommend thinking long and hard before doing it. It WILL be public knowledge,and it could be held against you in employment or other opportunities.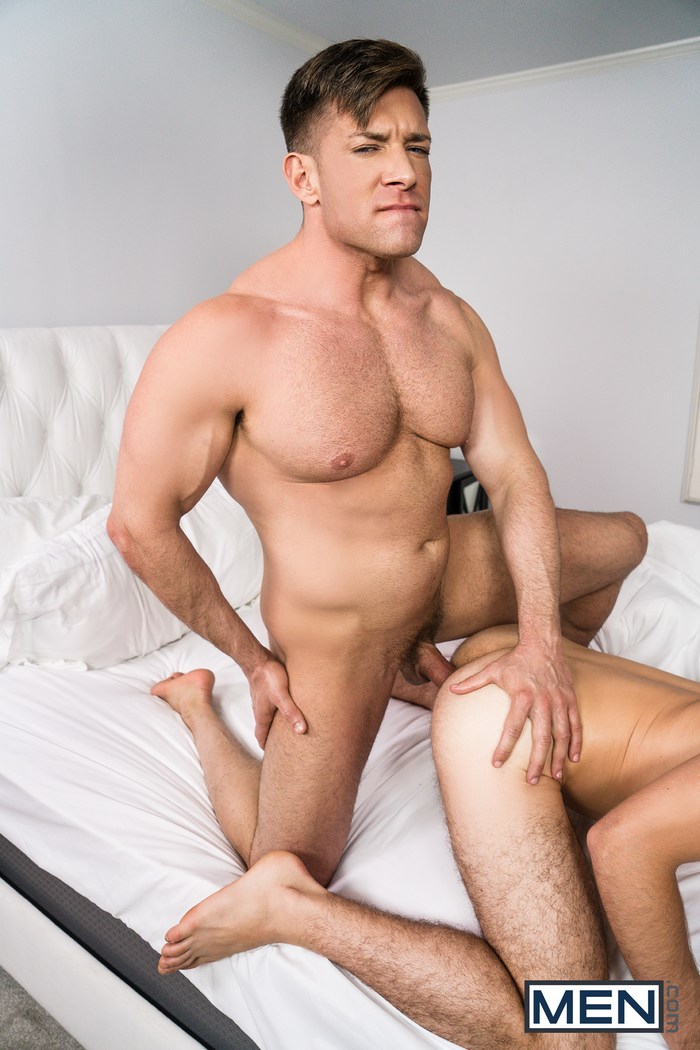 What do you think about the new platforms like OnlyFans / JustForFans?
As a performer, its been a great opportunity to supplement my income and explore different sexual fantasies of mine.
From a consumer's standpoint, I think it's a great way to have access to some really hot content in a more intimate setting.
Who are models you want to do OnlyFans videos with next?
So many… I want to finally shoot something with Griffin Barrows and Adam Ramzi. Austin Wolfe a second time, Kurtis Wolfe as well. Absolutely Beaux Banks.
Definitely DeAngelo Jackson.
I also have a porn crush in the industry who I'd LOVE to film with, but he has a boyfriend in the industry as well, so I don't want to be THAT guy.
What's next for Bruce Beckham?
Hopefully more fun acting-centric projects in 2019, roles that are more scripted and ambitious. I always want to keep pushing myself.
I'd love to do some mainstream acting as well, and I'd love to be a pundit on a podcast or paneled opinion show.
Beyond that, I hope to do more appearances in 2019 as well. It would be nice to meet the people who have shown interest in my work the past couple years. I wouldn't have the career I have today without them.
+ Bruce Beckham Fucks Michael DelRay Bareback in Get Your Dick Outta My Son Part 1
+ Bruce Beckham | Instagram | Twitter | OnlyFans