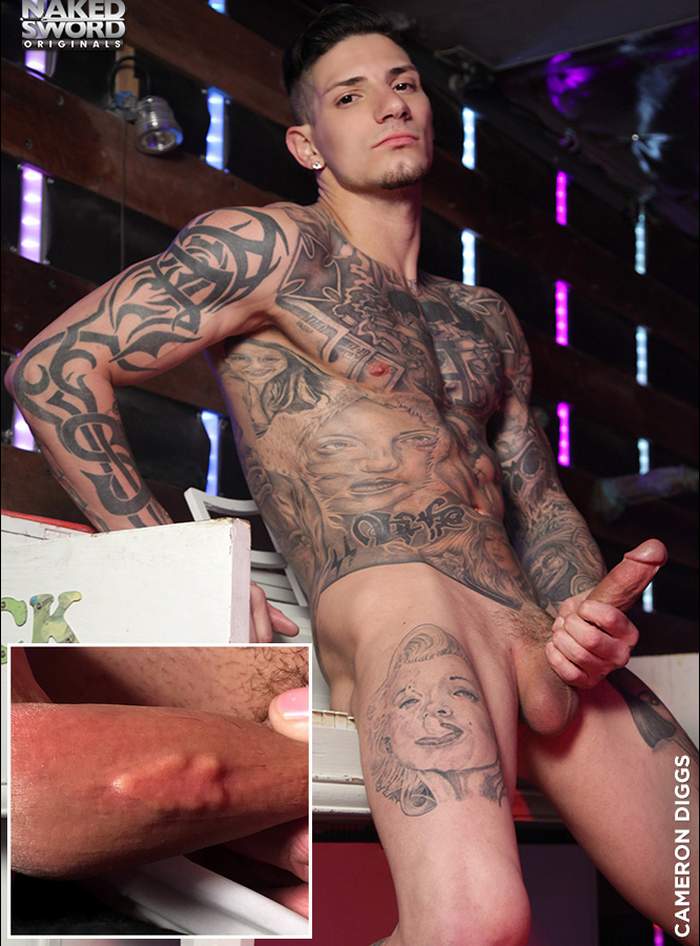 As I reported last week, this Wednesday Nakedsword Originals is premiering its latest porn movie BERKELEY shot on location in… well… Berkley, California and directed by mr. Pam. In the first scene Poster Boy, a rocker played by Cameron Diggs fucks Jed Athens.
This is the first gay porn scene for this tattooed stud Cameron Diggs. For this occasion, you will find out why his penis has a nickname "The Great White Shark." Check out the video below and don't miss Cameron Diggs' gay porn debut in Nakedsword's Berkeley.

Cameron Diggs and his dick named "The Great White Shark"
Tattooed rocker Cameron Diggs meets inquisitive, clean-cut frat boy Jed Athens while hanging posters for his upcoming show on Telegraph Avenue. Despite their differences they head off to Cameron's tricked-out moving van to expand their horizons. Jed drops to his knees, pulls out Cameron's giant rock-hard cock, and deep throats every inch. He tugs on Cameron's huge balls then turns him to eat his virgin hole. All of this is new to Cameron but instinct takes over. He pushes Jed up against the wall of his truck, shoves his dick in his ass, and pounds him hard. Horizon's continue to expand when Cameron throws Jed in a sling and continues to pummel his juicy bubble butt. Jed blows first then helps nurse a load out of Cameron's cock with his hot mouth. Free your mind and the sex will follow.
+ Cameron Diggs Fucks Jed Athens in BERKELEY Episode 1: Poster Boy