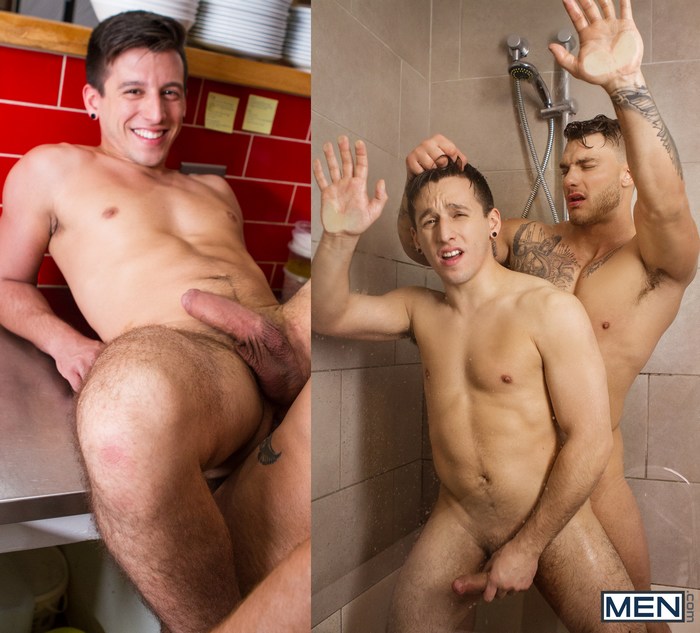 Check out new gay porn model Collin Lust from Montreal. This Canadian cutie makes his gay porn debut this week, first on Reality Dudes, then Men.com. Today you can watch Collin Lust bottom for Jax Damon in Dudes In Public 27 – Kitchen Confidential.
Then power top William Seed jackhammpers Collin Lust's eager butt in Pranksters Part 7 on Men.com this Thursday, June 28th.
Collin and Jax are young, hung and horny. Both athletic looking hotties are eyeing each from across the room in a restaurant, when Collin whips out his big, uncut dick and starts stroking it under the table. Jax is so worked up that he signals for Collin to follow him into the kitchen for some hot action. This kitchen is definitely hotter than you expected! If you can stand the heat, sit back and watch as they cook up a good ass pounding and top it off with their special cream. Will they get caught in the act?
+ Collin Lust Bottoms For Jax Damon in Dudes In Public 27 – Kitchen Confidential
Muscular and tattooed William Seed is always playing pranks on his cute, twink-looking roommate, Collin Lust. His latest string of pranks involves him popping balloons against Collin's perfect ass. He tries to get his bare butt coming out of the shower, but Collin catches him before he can do the deed. He's had enough with William and his pranks! He turns around and sticks his ass out so he can just get it over with, but William is so turned on that he decides to pop his dick into Collin's ass instead.
+ Collin Lust Gets Fucked By William Seed in Pranksters Part 7 on MEN.COM [June 28]