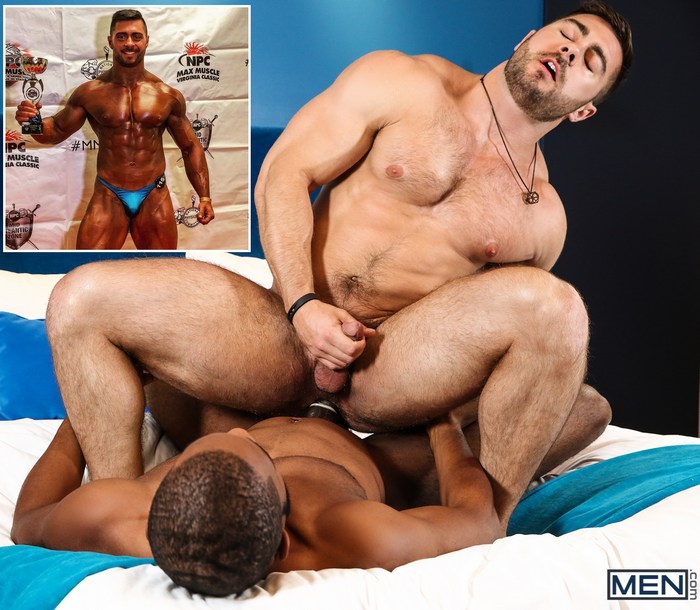 Congratulation to gay porn star / bodybuilder Derek Bolt! He just won his class at the NPC Max Muscle Virginia Classic bodybuilder competition. Check out his pictures below. (He also has an answer for fan's question why every bodybuilders in competitions look bronzed like that.) This week you can also watch Derek Bolt get his muscled butt fucked by Lawrence Portland in Sex Clues Part 1 from Men.com.
I won my class! I'm so absolutely thrilled!!! I'm nationally qualified for next year!! pic.twitter.com/yEJNmdmqjb

— Derek Bolt (@derekboltxxx) November 10, 2018
It's cause otherwise you just fade out on stage. That's literally the shade the judges are looking for. Any lighter and you lose points

— Derek Bolt (@derekboltxxx) November 11, 2018
Dark-skinned, handsome Lawrence Portland is looking for his twin brother after he goes missing. He heads over to his apartment to look for clues, and ends up finding a number for escort, and beefy cutie Derek Bolt. He's surprised to find out that his twin is gay, but the only way he can find him is by investigating and recreating everything he did before disappearing, and that includes smashing Derek's tight hole.
+ Derek Bolt Bottoms For Lawrence Portland in Sex Clues Part 1