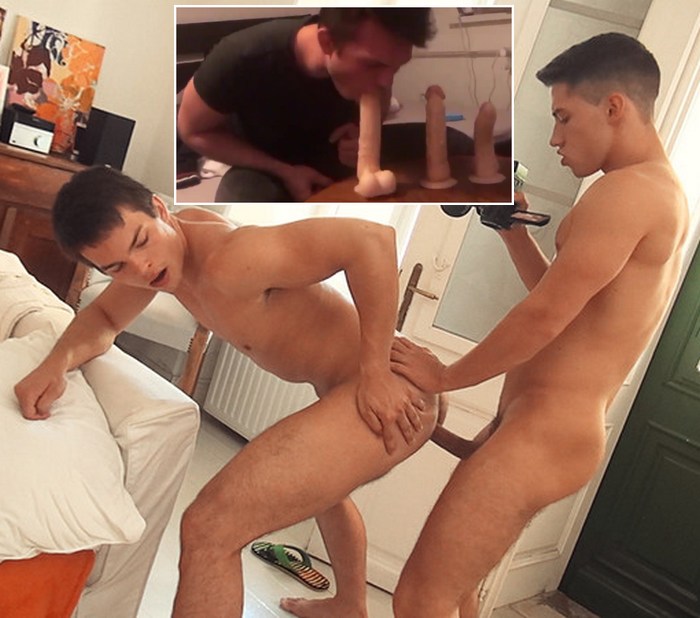 We recently saw BelAmi gay porn star Derek Caravaggio showing his cock-sucking skill in that hot deep-throat video last month. Now you can watch him prepare for his sex scenes with not one but THREE dildos! Then you will see him put his skill to good use in his latest sex scene from FRESHMEN in which Derek Caravaggio gets fucked by Joel Birkin's massive cock.
This week you can also watch hottie Eluan Jeunet bottom for Jamie Durrell. And don't forget to check out both Derek Caravaggio and Eluan Jeunet on Flirt 4 Free.
How Derek Caravaggio Prepares To Handle Gigantic Dick
Poor Joel. When you have the biggest dick in a porn studio known for big dicks, how can you demonstrate your multifaceted abilities? This task becomes more difficult when the horny young men who work at said porn studio have no interest in your other talents- they just want to be fucked by the guy with the "really big dick". This dilemma is illustrated today as Derek sets out to prove to his buddies that Joel would be interested in him. Please look at the video before shedding tears for Joel and his under-appreciated virtues. The video makes it apparent that- despite his protestations- Joel loves his "biggest dicked boy" title and relishes all the beautiful ass it brings to him
+ Derek Caravaggio Gets Fucked By Joel Birkin's Huge Dick
After seeing Eluan's taut body and tight ass, Jamie was doubtful of Eluan's presence as a translator. Fortunately, they are both Slovak, so Jamie has no use for Eluan's Multilingual abilities. However, the previously mentioned taut body and tight ass our two bonus features that Jamie is anxious to take advantage of. Jamie's greater experience determines his topping today. Judging by the prodigious amount of cum Jamie fucks out of Eluan, this suits him fine.
+ Jamie Durrell Fucks Eluan Jeunet
+ Derek Caravaggio | Eluan Jeunet | BelAmi Chat