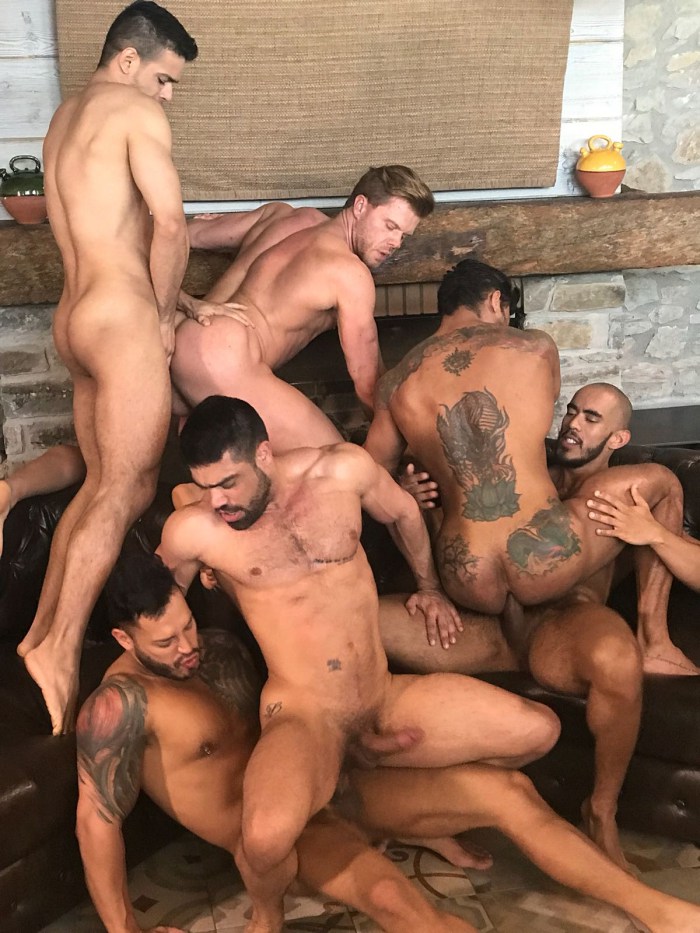 Multiple gay porn stars share tons of pictures and video clips from the set of Lucas Entertainment in Barcelona. The picture above is from the 6-way orgy where gay porn stars Wagner Vittoria, Diego Lauzen & Conrad Cummings (newcomer from Poland) get fucked bareback by Rico Marlon, Viktor Rom & Louis Ricaute. I can't wait to watch this group sex scene.
Below you will see behind the scenes pictures of gay porn stars Tomas Brand, Dylan James, Devin Franco, Manuel Skye, Ruslan Angelo, Sergeant Miles, Brock Magnus, Drake Rogers, Andrey Vic, Geordie Jackson, Jackson Radiz, Jeffrey Lloyd, Ken Summers, Klim Gromov including new gay porn models Yuri Orlov, Leo Rex, and Austin Sugar shooting gay porn in Barcelona for Lucas Entertainment.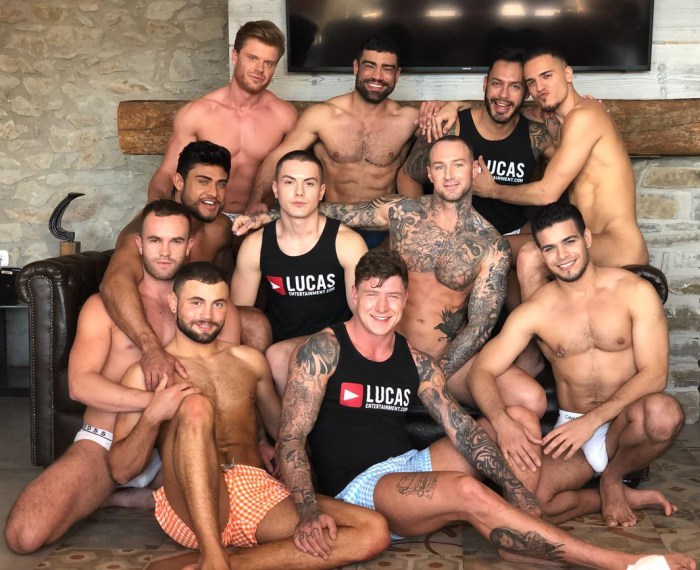 From Left To Right: Jackson Radiz, Diego Lauzen, Jeffrey Lloyd, Conrad Cummings (Newcomer from Poland), Austin Sugar (Newcomer from Latvia), Wagner Vittoria, Geordie Jackson, Dylan James, Viktor Rom, Leo Rex (Newcomer from UK), and Rico Marlon.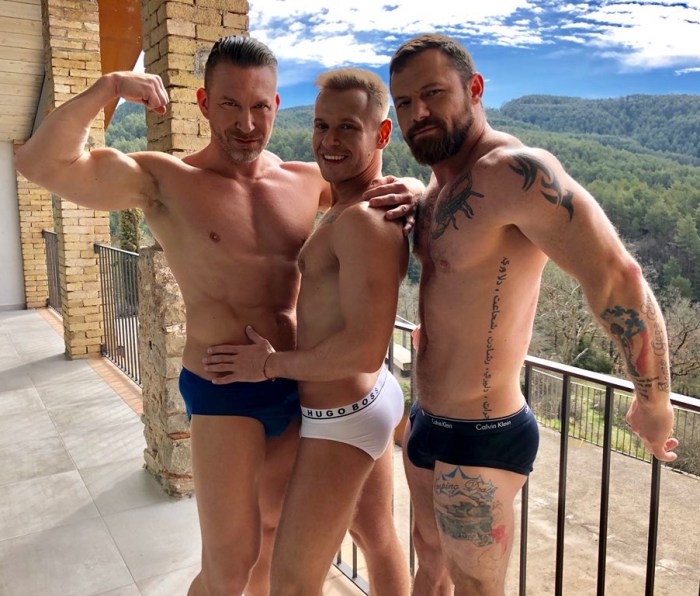 Newcomer Yuri Orlov with Tomas Brand and Sgt. Miles
Sorpresa para nuestros seguidores kisses Venezuela ?? con el Porn Star @louis_ricaute @LouisRicautVzla grabando para Lucas enterteiment @theQueerPig @QueerMeNow @Luccas___lucas @LucasEnt @LavaderoMunecas @gentegtv @Bufibears @formulagay pic.twitter.com/sm4hi0cWTh

— VIKTOR ROM VISSER (@ViktorRomXXX) March 22, 2018
Ya llegando a casa ?? a la mansión @LucasEnt with Porn actors @JeffreyLloydXXX @kensummersxxx @ViktorRomFAN @ViktorRomEC @FranceViktor @ViktorRomBR @Viktorafrica1 @ViktorVzla @ViktorRomFanXXX @formulagay @ChulazosBlog pic.twitter.com/LhTMTWOPuB

— VIKTOR ROM VISSER (@ViktorRomXXX) March 21, 2018
Check out what is going on behind me #BTS of @LucasEnt ???@QueerMeNow @ViktorRomXXX @queerkingxxx @queerfever @miguelsolo611 @HotMaleStuds @gayporncrushess @theQueerPig @lavaderoMunecas pic.twitter.com/6rTBXjHsn6

— geordie jackson (@GeordieJacksonx) March 23, 2018
Blowed By Leo Bunny @LucasEnt #Gayporn #gaymuscle #blowjob #gaybj @ChulazosBlog @MichaelLucasNYC @RentMen_com @CzechRaw @ManhuntDaily pic.twitter.com/qUnEbzPKaM

— Ruslan Angelo (@RuslanAngeloxxx) March 25, 2018
Scene very hot
whit @Louis_Ricaute and @drakerogersxxx #LucasMen #lucasentertainment @LucasEnt @theQueerPig @QueerMeNow pic.twitter.com/onMQ8Z7NeL

— Richard RICO MARLON (@RicoMarlon22cm) March 22, 2018
Very handsome guy next prodction , maybe one scene togheter ! Do you Want ?@JacksonRadizxxx
to @LucasEnt #lucasmen #lucasentertainment @theQueerPig @theQueerPig pic.twitter.com/3XJN4Vv3XD

— Richard RICO MARLON (@RicoMarlon22cm) March 23, 2018
Divirtiéndonos con @kensummersxxx en la mansión de @LucasEnt @ViktorRomEC @ViktorTeam @FranceViktor @ViktorRomBR @ViktorRomBR @ViktorVzla @Viktorafrica1 @formulagay @ChulazosBlog @gentegtv @LavaderoMunecas pic.twitter.com/xDpplgHsFf

— VIKTOR ROM VISSER (@ViktorRomXXX) March 23, 2018
Little message to @tomasbrandfans from me and @ManuelSkyexxx after our scene we did together grrrr ?@LucasEnt pic.twitter.com/MLoEBwrAab

— Tomas Brand (@TomasBrandxxx) March 21, 2018
Mi próxima escena para @LucasEnt soon with @theQueerPig @QueerMeNow @ViktorRomFAN @Viktorafrica1 pic.twitter.com/MidUTafV7q

— VIKTOR ROM VISSER (@ViktorRomXXX) March 23, 2018
+ Watch Gay Porn Stars Fuck Each Other Bareback On LUCAS ENTERTAINMENT