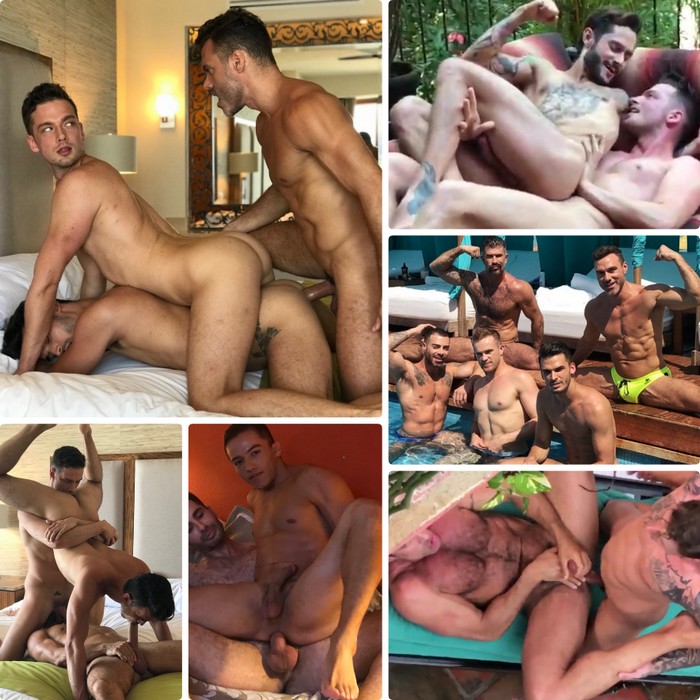 It's pretty hard to keep track of all the sex tapes, selfies & behind the scenes clips these gay porn stars are sharing from the set of Lucas Entertainment in Puerto Vallarta, Mexico. They are very active on Twitter. Below are the collection of pictures and video clips I found so far of gay porn stars Manuel Skye, Nick Capra, Ben Batemen, Devin Franco, Shawn Reeve, Pheonix Fellington, Tryp Bates, Dakota Payne, Joaquin Santana with newcomers Aaden Stark, Jackson Radiz, Carlos Lindo, Rod Fogo & Geordie Jackson.
Lucas Entertainment just signed Aaden Stark as their latest exclusive model. You will find even more behind the scenes pictures from this porn production here and here.
Shout Out from @ManuelSkyexxx @AADENSTARKXXX @AmIPheoniXXX @RodFogoXXX @CarlosLindoNYC @JacksonRadizxxx

MORE ? (https://t.co/Mdz78vNdO3) pic.twitter.com/uNoFWhb5Zp

— Queer Me Now (@QueerMeNow) October 4, 2017
A Shout Out From Gay Porn Stars Manuel Skye, Adam Killian, Pheonix Fellington, Aaron Stark, Jackson Radiz, Carlos Lingo, and Rod Fogo.
Aaden Stark – Lucas Entertainment's New Exclusive Gay Porn Star @AadenStarkXXX @MichaelLucasNYC @LucasEnt

MORE ? (https://t.co/Pw6VP4QZho) pic.twitter.com/2TUyh7y7ka

— Queer Me Now (@QueerMeNow) October 4, 2017
Aaden Stark – Lucas Entertainment's New Exclusive Model
More behind the scenes!@ManuelSkyexxx @JacksonRadizxxx & @nickcapra @LucasEnt pic.twitter.com/PGj62swqdr

— Alejandro Castillo (@alejandrogcasti) September 30, 2017
This just happened..
Fucked #bareback by @LucasEnt #GeordieJackson
You guys ready for these new scenes? ? @QueerMeNow #bts #LucasMen pic.twitter.com/B3SWFg3rpd

— Nick Capra (@nickcapra) October 1, 2017
@XXXDylanJames 's Fat cock Deepthroat practice B4 we start ? @ManuelSkyexxx @BenBatemenXXX Soon @LucasEnt #lucasmen ??@QueerMeNow @queerpig pic.twitter.com/dOWo8MIiue

— Manuel Skye (@ManuelSkyexxx) October 1, 2017
Just give me your ass and I will break it down #gayporn #porn @LucasEnt @QueerMeNow @theQueerPig @Man_Surfer @ManhuntDaily pic.twitter.com/Bs3NsYwrWM

— Damon Heart (@Damon_Heart_A) October 1, 2017
Behind the scenes ? @LucasEnt @nickcapra @ManuelSkyexxx @JacksonRadizxxx @Damon_Heart_A pic.twitter.com/i2cCoiTu6G

— Alejandro Castillo (@alejandrogcasti) September 29, 2017
I Just wrapped my first 1:1 #bareback scene 4 @LucasEnt with @devinfrancoxxx
It was ? @QueerMeNow @theQueerPig @COPBlog @MichaelLucasNYC pic.twitter.com/zPv5mXUrWJ

— Nick Capra (@nickcapra) September 29, 2017
Daddy breeds his pup. @JacksonRadizxxx

Get the Full Clip 2 this and Over 100 More of My #Bareback Home Videos:https://t.co/dl9k5RrBb9 pic.twitter.com/i9OqHgD8UZ

— Nick Capra (@nickcapra) October 3, 2017
SWEAT AND MUSCLE!What more could you want!???FUCKING!?? @nickcapra @LucasEnt @MichaelLucasNYC @QueerMeNow @luccas___luccas @HottieMcHotStuf pic.twitter.com/j8t6w2w1Wb

— Dylan James (@XXXDylanJames) October 2, 2017
Whoppaaa #gayporn #porn @LucasEnt pic.twitter.com/i0FMaXAhuL

— Damon Heart (@Damon_Heart_A) October 1, 2017
Heaven on ?at the villa @LucasEnt w/ @devinfrancoxxx @JacksonRadizxxx @ManuelSkyexxx @MichaelLucasNYC #lucasmen ??? @QueerMeNow @theQueerPig pic.twitter.com/vCiMFcLVip

— Manuel Skye (@ManuelSkyexxx) September 30, 2017
Hot #bareback fuck with Canadian Stud @manuelskyexxx ?

Get Full Clips to this & Many More:https://t.co/dl9k5RrBb9https://t.co/Qe7ISpY5LT pic.twitter.com/c3JEdeF5PH

— Nick Capra (@nickcapra) September 28, 2017
@ManuelSkyexxx is so hot ?@LucasEnt pic.twitter.com/yCLFCPuYyA

— Alejandro Castillo (@alejandrogcasti) October 1, 2017
Other angle @rodfogoxxx @LucasEnt shooting with toys #toys #gayporn #gaymen #gayink @QueerMeNow @QueerClick @theQueerPig @DjBenManson pic.twitter.com/BX7tOXct7B

— Damon Heart (@Damon_Heart_A) October 2, 2017
@devinfrancoxxx ???@LucasEnt pic.twitter.com/6QcGkb4Ox0

— Alejandro Castillo (@alejandrogcasti) September 30, 2017
@rodfogoxxx it was mine but I share ? #gayporn #fuck #gayfuck @LucasEnt pic.twitter.com/CIdjVqU8K4

— Damon Heart (@Damon_Heart_A) October 1, 2017
Dad n Son time always ends like this… @jacksonradizxxx https://t.co/dl9k5RrBb9 pic.twitter.com/xDM9YMrviL

— Nick Capra (@nickcapra) October 1, 2017
Fotógrafo @ManoMartinez #lucasmen pic.twitter.com/cxZeljpJBx

— Joaquín Santana (@JoaqunSantana2) October 3, 2017
When you walk into the gym and @XXXDylanJames is pumping. ??@LucasEnt @MichaelLucasNYC @theQueerPig @QueerMeNow #LucasMen pic.twitter.com/3nPAMhtkZn

— Nick Capra (@nickcapra) October 1, 2017
This hot three way is doen @AADENSTARKXXX @ManuelSkyexxx for @LucasEnt pic.twitter.com/XzZXcoFNm5

— Damon Heart (@Damon_Heart_A) October 4, 2017
Kisses from the set of @LucasEnt @JoaqunSantana2 pic.twitter.com/wVD3JovV0q

— Alejandro Castillo (@alejandrogcasti) September 29, 2017
I see a cock and I have to worship it, I can't help it #lucasmen #LucasEntertainment pic.twitter.com/Iq4MhZa2Nb

— Devin Franco (@devinfrancoxxx) October 3, 2017
I fucked my load deep inside @jacksonradizxxx hot pink hole! ?#bb #bareback #gayporn #gaysex #bigdickhttps://t.co/dl9k5RJczJ pic.twitter.com/6UBRTAaqHj

— Nick Capra (@nickcapra) September 29, 2017
On set with @rodfogoxxx ???@LucasEnt pic.twitter.com/hkuf9VPzv6

— Alejandro Castillo (@alejandrogcasti) September 29, 2017
From one of my shoots @LucasEnt in Puerto Vallarta with @ManoMartinez #lucasmen #lucasentertainment pic.twitter.com/xXvMsRVPvi

— Devin Franco (@devinfrancoxxx) October 2, 2017