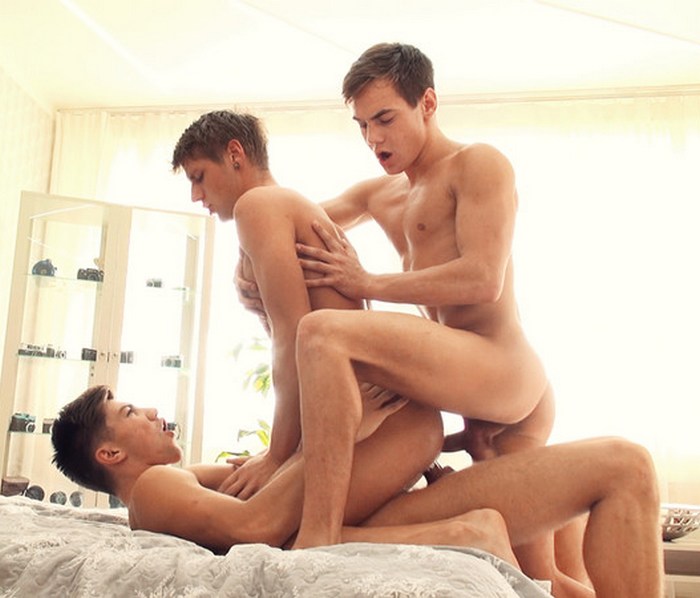 BelAmi introduces two new gay porn models in the latest weekly update from Freshmen and one of the two, Rick Palmer, already shows that he's a talented bottom by being double penetrated in his porn debut. Check out the XXX trailer of this scene Rick Palmer gets DP'd by Jim Durden and Kirk Gauguin below.
They say that competition is good for the boy and soul. In this case a friendly game of foosball leads to friendlier fornication with Bastian scoring twice- winning the game and claiming this tall, sexy Freshman's ass as his prize. Bastian is a gracious winner, treating his conquest to a consolation deep-throat and a victory pounding. Judging from Pascal's satisfied appearance there is no "agony" but only pleasure in his "defeat". For those of you concerned that this is the last you'll see of the lanky lusciousness that is Pascal, fear not. He didn't "flirt" with Freshmen but committed fully. You'll be seeing a lot more of him including a solo performance next month.
+ Bastian Dufy Fucks Pascal Mauri
Bob Marghiela employs an interesting set of motivational techniques in getting his trainee, Gregg Simmons, into peak shape, including kisses for each complete sit-up and a post-work out prostate massage. His trainee Gregg Simmons has a build and look that may remind our old-time fans of Benjamin and Johnny Bloom. Unfortunately, Gregg elected not to have the long-term career those two enjoyed and is one of our "Flirting with Freshmen" models.
+ Bob Marghiela Fucks Greg Simmons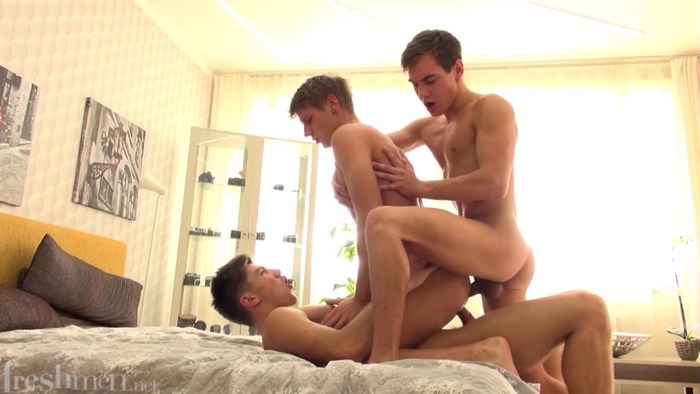 There is a double debut this month. So, it's appropriate that it includes a double penetration. Our first nubile newbie was Pascal Mauri and now we have Rick Palmer, taking two for the team. Rick shares a characteristic that is common in our newer models- a frantic and wild approach to sex. This frenzied urgency is on full display here as the boys suck and fuck till they're all breathing hard and happy.
+ Rick Palmer Gets Double Penetrated By Jim Durden and Kirk Gauguin