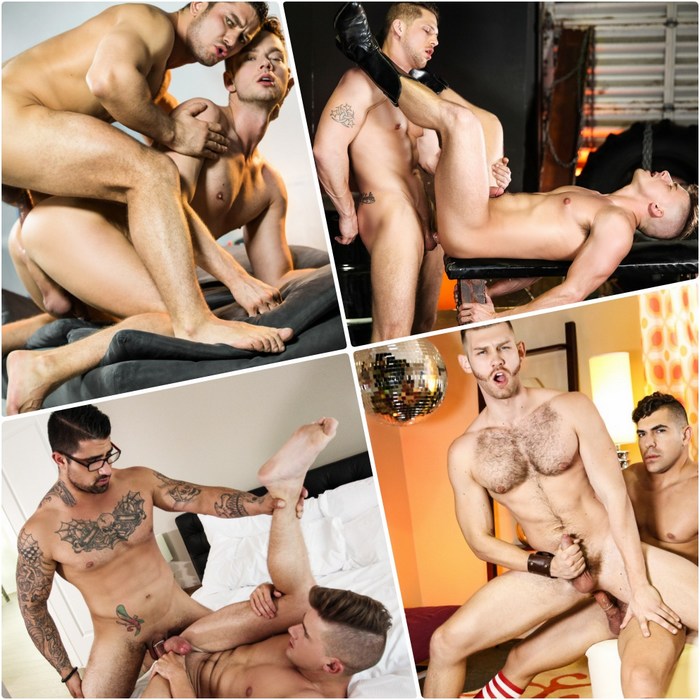 Gay porn star Jake Porter clones himself in the funny new scene from Men.com called Attack of My Clone. Check out the XXX trailer of this scene where Ryan Bones fucks Jake Porter, but was it the real one or the clone?
Be sure to check out these upcoming scenes: Jacob Peterson bottoms for Damien Stone in Family Business Part 1, Roman Todd fucks Jake Porter in Timid Part 1, and Dato Foland fucks Damon Heart in Sex Stories Part 3.
Adorable hunk Jake Porter clones himself so he can skip doing housework and surprises his dark-haired, tattooed and muscular partner, Ryan Bones, who comes home to find his clone sitting on the couch. He's really shocked that the clone looks exactly like Jake; the same toned body, bubble butt, and big dick! Jake leaves to go shopping, and Ryan heads to the shower where Jake's clone follows him in to help get him cleaned up. Ryan's uncut cock hardens at the thought of fucking Jake's clone as he directs him into the bedroom. While the clone is slobbering all over Ryan's cock, Jake returns, and he's quite upset. The clone runs off and Jake shows Ryan that no one can ever replace him; not even himself!
+ Ryan Bones Fucks Jake Porter in Attack of My Clone
Jake Porter is going through his grandfather's things and finds a mysteriously titled videotape. He pops it in and is stunned to find out his grandfather used to be a porn star! Long John Porter, aka Jacob Peterson, was a toned and lean stud packing a beautiful, uncut cock. In this feature, he starred opposite beefy and muscular Damien Stone, who took much joy in tonguing his ass and fucking his hole.
+ Jacob Peterson Bottoms For Damien Stone in Family Business Part 1
Roman Todd agrees to participate in a study that puts him to sleep and into a fantasy world. He fantasizes about a sex dungeon where he is greeted by adorable, chiseled Jake Porter, who gets right down to business, pulling out Roman's already hung and hard cock. Once primed, the muscular hunk bends Jake over and rims his ass so he can enter his hole and destroy it.
+ Roman Todd Fucks Jake Porter in Timid Part 1 [Coming July 16]
Dark-haired stud, Damon Heart, watches his own sex story play out with beefy, Euro stud, Dato Foland. Dato bends him over and goes to town tongue fucking his eager hole; licking and fingering it open. Damon then gets his mouth stuffed full of Dato's hard, uncut dick slobbering and gagging until he can't take anymore. The only thing left for Damon to do after that is to prop his ass up for a dicking he so rightly deserves.
+ Dato Foland Fucks Damon Heart in Sex Stories Part 3 [Coming July 17]