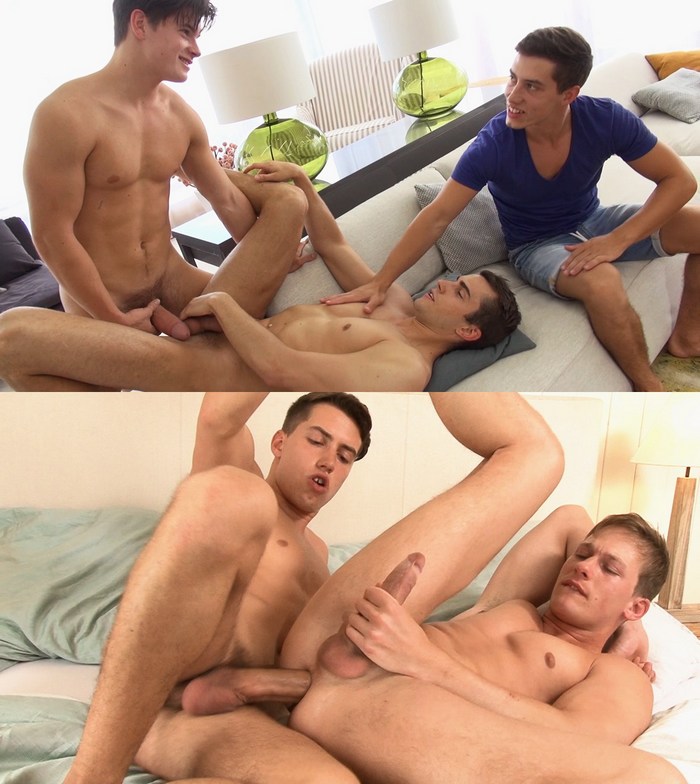 This week big-dicked gay porn star Joel Birkin introduces his good friend Kian O'Connor to gay porn in this new sex scene Kian O'Connor fucks Claude Sorel bareback. Then Joel puts his gigantic cock to good use in a hot scene with power bottom Marcel Gassion. Check out the XXX trailer of the video Marcel Gassion gets fucked raw by Joel Birkin's huge cock below.
Kian O'Connor has to be one of the highlights of our 25 new boy celebration. Very handsome, fantastic body and tick and hefty cock make Kian the perfect package. With a dick this thick, we had to be a bit careful in choosing scene partners for him, but Claude was automatically on the short list for his ability to enjoy being fucked by dicks of all sizes.
+ Kian O'Connor Fucks Claude Sorel
As you saw in a quick outtake a couple weeks ago we have our biggest dick and our most capable bottom paired up for this Saturday special. Marcel has made it well known to everyone that his ambition is to be called BelAmi's best bottom ever, so in pursuit of that goal, he is here to take on Joel Birkin. At no time did we have any doubt that Marcel would enjoy every second of this pounding, and we are equally as hopeful that you will all enjoy watching it as well.
+ Marcel Gassion Takes Joel Birkin's Gigantic Cock Bareback