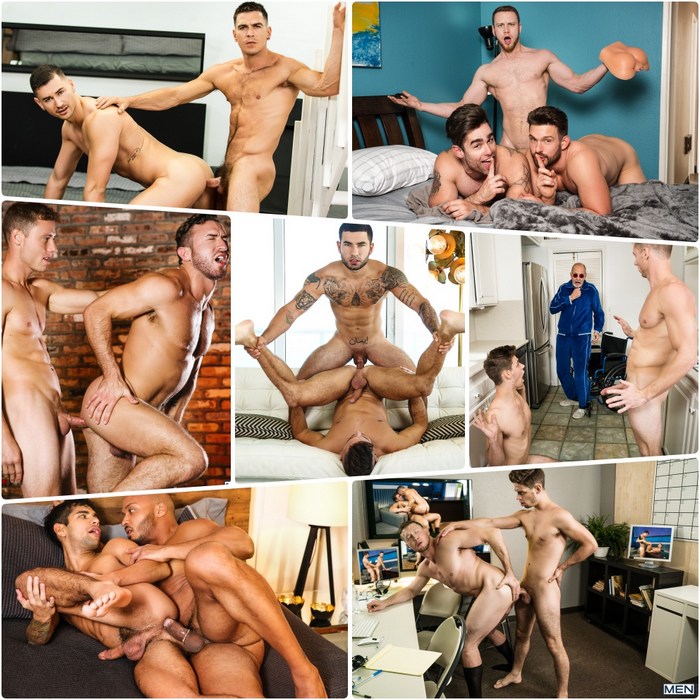 Men.com has released 3 bareback sex scenes this past week: Justin Matthews fucks Michael DelRay in Don't Tell My Sugar Daddy, Michael DelRay fucks Pierce Paris in Prime Time Part 3, Brandon Evans fucks Lucas Leon & Casey Jacks in Ass Swap Part 4.
And four condom scenes: Justin Matthews fucks Grant Ryan in Plastics Part 1, Vadim Black fucks Shane Jackson in Feel Me, Dillon Diaz fucks Ty Mitchell in Heartbeat, and Paddy O'Brian fucks Lukas Daken in Heart Strings. I guess this means we can expect more bareback scenes from Men.com in 2019.
Sexy sex addict Justin Matthews wants to get his balls cut off so he can get control of his life, but hunky Dr. Grant Ryan doesn't think he needs that kind of surgery, and instead invites him to an after-hours bathhouse. Muscular Grant advises brown-eyed Justin that all he needs are a few ways to let off some steam, and he's more than happy to give the athletic blond as much ass as he needs, free of charge!
+ Justin Matthews Fucks Grant Ryan in Plastics Part 1
Attractive, blond-haired Justin Matthews doesn't understand why good-looking, athletic Michael Del Ray needs to have a sugar daddy as old as dust when he can have someone closer to his age who can actually provide him with real sexual pleasure, and money. Horny Justin propositions him with his thick, hard cock, and brown-haired Michael can't resist going down on his smooth rod with his slobbering mouth. Chiseled Justin dominates the eager bottom until he's ready to explode all over his face.
+ Justin Matthews Fucks Michael DelRay Bareback in Don't Tell My Sugar Daddy
Dark-haired Vadim Black and good-looking Shane Jackson cannot keep their hands to themselves as they get off feeling each other's muscular, fit bodies. Vadim gets comfortable so he can enjoy the wetness of Shane's mouth sliding up and down his thick shaft until he's ready to rim Shane's stretched hole. Vadim positions the horny bottom to take his dick whole before spewing cum all over their sweaty bods.
+ Vadim Black Fucks Shane Jackson in Feel Me
Strapping jock Dillon Diaz and slender, fit Ty Mitchell enjoy a nice relaxing bubble bath together. Adorable Ty worships Dillon's hairy chest before moving down to his thick cock, and wrapping it with his wet mouth. Dillon gets so horny that he turns Ty around to rim his tight entrance tongue fucking it until he's ready to slide his dick deep inside of Ty's pink, eager hole.
+ Dillon Diaz Fucks Ty Mitchell in Heartbeat
Tall, athletic Lukas Daken is in the shower fantasizing about what a tryst with hunky, chiseled Paddy O'Brian would be like. He would begin worshipping Paddy's massive, thick cock with his dripping, lustful mouth, and then he would spread his cheeks for brown-haired Paddy to stick his tongue in. Finally, they would have explosive sex in several positions until both of them are satisfied.
+ Paddy O'Brian Fucks Lukas Daken in Heart Strings
The Primetime producers are shocked, and have already concluded they are being fired after the live sex show airs, but that doesn't stop their dicks from getting hard during the broadcast. Tall, muscular Pierce Paris and athletic, attractive Michael Del Ray strip down revealing their huge, hung cocks. Horny Pierce gets down on all fours so he can blow Michael's massive cock. Brown-haired Michael worships Pierce's feet with a few licks until he's ready to dominate that ass!
+ Michael DelRay Fucks Pierce Paris Bareback in Prime Time Part 3
The boys are sitting around comparing sex toys, and love what they have so far. Athletic Casey Jacks and fit Lucas Leon both have dildos while chiseled Brandon Evans lucked out with a realistic ass. Good-looking Brandon excuses himself, and heads off into the bedroom to test out his new toy. Curious Lucas sneaks over, and watches it all go down until he gets the chance to go in and swap places with the toy. Brown-haired Casey had the same plan in mind and switches places with Lucas after his round of ass pumping. Blue-eyed Brandon finally realizes what's going, and gives them both an ass full more of his big cock.
+ Brandon Evans Fucks Lucas Leon & Casey Jacks Bareback in Ass Swap Part 4