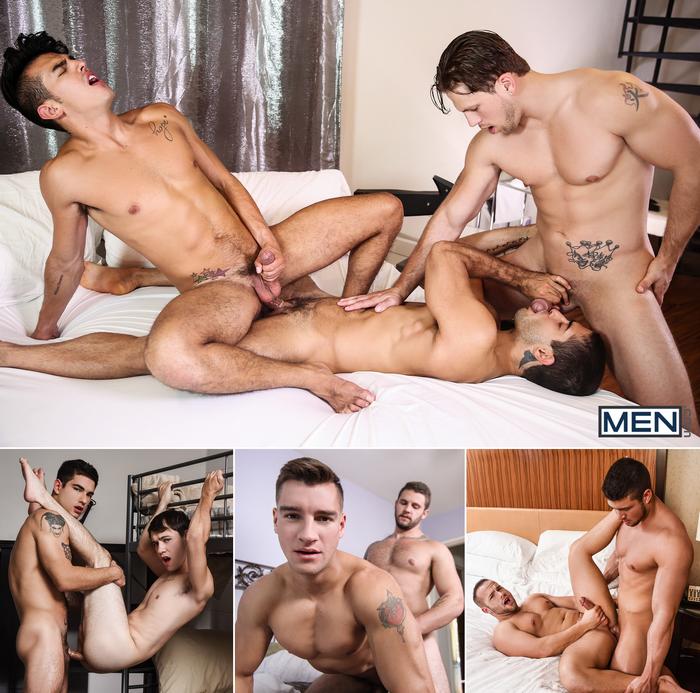 This weekend Brad Banks (Bromo & Active Duty) makes his Men.com debut in a scene called Peepers Part 6 where Brad Banks fucks hot bottom Luke Adams. Another model making his first appearance on Men.com Mike Rathburne (Str8 Chaser, RawCastings, Active Duty & ChaosMen) in a scene called Open Your Eyes Part 2 where Rocke (Mike) Rathburne fucks Jordan Boss.
And don't forget to check out these hot scenes: Diego Sans and Roman Todd fuck Leo Fuentes in Two Timing Whore and Vadim Black fucks Zach Taylor in Group Home Part 2.
The group home newbie Zach Taylor slips into Vadim Black's bed just as easily as Vadim's dick slips into his mouth. Things continue to heat up, and soon after Vadim rim's Zach's tight hole he plunges his beautiful cock inside and fucks him from bunk-to-bunk.
+ Vadim Black Fucks Zach Taylor in Group Home Part 2
Diego Sans and Roman Todd tag-team Leo Fuente's hot little hole.
+ Diego Sans and Roman Todd Fuck Leo Fuentes in Two Timing Whore
Brad Banks is wrongly accused of stealing some cash that Luke later admits to doing. After getting chewed out by his boss he decides to quit but Luke feeling sorry has a plan to keep him on board. He wastes no time getting down and dirty and showing Brad how appreciated he is by wrapping his lips around Brad's big cock.
+ Brad Banks Fucks Luke Adams in Peepers Part 6
Jordan Boss surprises Rocke Rathburne with a blow-job, scaring Rocke's girlfriend away. Rocke decides to let Jordan finish what he started, slobbering down his hard cock and priming him for some early morning ass fucking.
+ Rocke Rathburne Fucks Jordan Boss in Open Your Eyes Part 2
+ MEN.COM