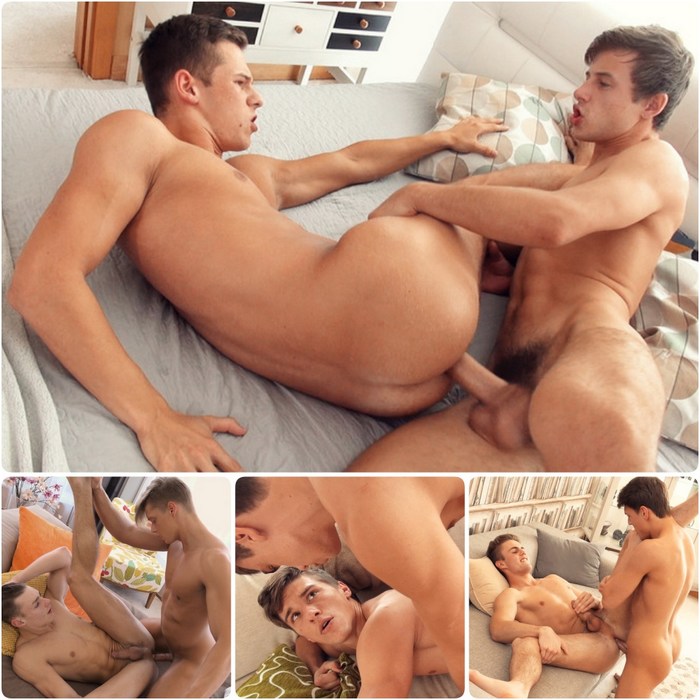 Muscle jobk Matt Thurman made his gay porn debut back in February bottoming for Enrique Vera. Now in their latest sex scenes from FRESHMEN, Matt Thurman gets fucked by Bastian Dufy's huge cock while Enrique Vera has a flip-fuck scene with Joaquin Arrenas. The site also introduces cute newcomer Paolo Arreola in his bottoming scene with Justin Saradon.
Over at BelAmi main site, you can also watch Christian Lundgren fucks Matthieu Pique bareback.
Bastian is training exceptionally eager newcomer, Matt Thurman. It is obvious that Bastian has already formed a bond with his star pupil. Luke gives instructions which are largely ignored by the horny couple determined to do it their own way. Bastian promises to "take it slow" making it a tender training session. Matt has different ideas and takes the lead in setting a more vigorous pace. Matt does have concerns about being able to take Bastian's oversized member. It turns out these concerns were unfounded as the harder Bastian fucks him, the happier he seems. A size aficionado in the making?
+ Matt Thurman Gets Fucked Raw By Bastian Dufy's Huge Cock on FRESHMEN
This rare one stop flipflop scene comes to us courtesy or the model's willingness to have fun and their eagerness to enjoy each other's dicks in every way possible. So, when given the choice of "top or bottom" that day they both opted instead for "all of the above". Enrique bottoms first, enticingly wagging his ass at Joaquin to get what he's after. Apparently getting fucked increases Enrique's horniness as evidenced by the sweat inducing energetic fucking he gives to Joaquin.
+ Enrique Vera and Joaquin Arrenas Flip-Fuck on FRESHMEN
Poor Luke. He just can't seem to get any models to respect his authority this week as our Flirting with Freshmen models are also too horny to obey his instructions. Justin Saradon found Paolo at the gym and decided to bring him along for a try-out. While the scene turns out quite well, Paolo didn't quite make the cut to continue. So, he is one of our "Flirting" models with just this one scene.
+ Justin Saradon Fucks Paolo Arreola on FRESHMEN
We hope that we are not overwhelming you with all these new boys, but to keep our promise of 25 new boys for our 25th Anniversary they have to come at quite a quick pace. Today We have Matthieu Pique. Matthew is a bit of a special case for us in that he arrived, and in his very early content he is very lean, to the point of being thin. After taking a Christmas break that was spent almost entirely in the gym, he returned as quite the jock. His first scene on Freshmen with Jerome was from the early period, and this one with Christian is from the start of the 2nd.
+ Christian Lundgren Fucks Matthieu Pique Bareback