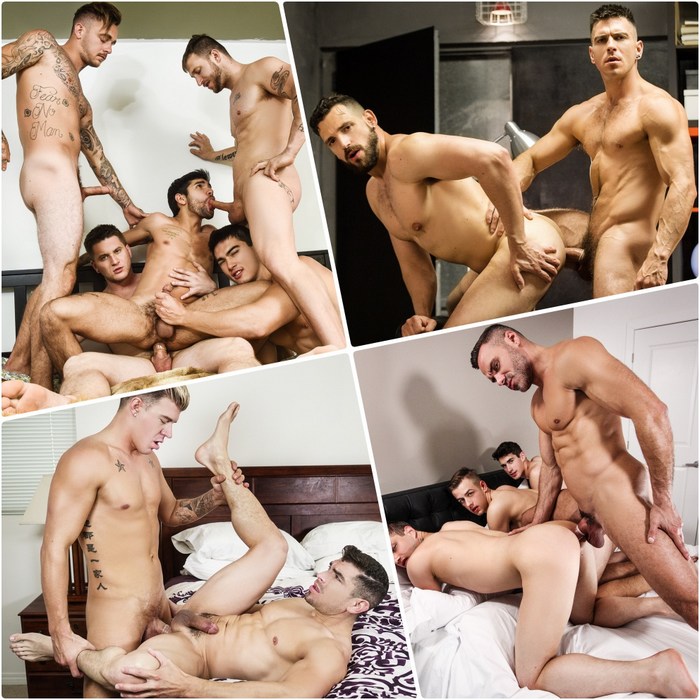 Men.com releases two group sex scenes this weekend. The first one is to celebrate Father's Day with the video called Daddy's Day where muscle daddy Manuel Skye fucks Jake Nobello, Jake Washington & Stig Andersen. The other is Ty Mitchell, Axel Kane, Allen Lucas, Brian Michaels & Nicholas Ryder 5-way fuck fest in Pass The Bottom Part 3. And don't forget to check out: JJ Knight fucks Jeremy Spreadums in Friends Share Part 1 & Paddy O'Brian fucks Enzo Rimenez in HomoPod Part 3.
JJ Knight has a booty call planned with beefy Jeremy Spreadums and can't wait to get into that bubble butt. He noticed Jeremy checking out his friend and reminds him who he came there for. The tall, blonde-haired athletic looker doesn't waste any time getting down to business and is relieved once he gets his monster cock inside Jeremy's mouth. He then throws Jeremy onto the bed and gets down on his knees to return the favor before filling his ass with his big dick.
+ JJ Knight Fucks Jeremy Spreadums in Friends Share Part 1
Handsome, toned daddy figure, Manuel Skye, wakes up to breakfast in bed being served by a trim and seductive Stig Andersen. It's daddy's day and his boys are celebrating! Twink Jake Nobello comes in with his surprise; a live dildo show! Manuel couldn't be happier as he takes over and slowly fucks his ass with the dildo. Not one to stay on the sidelines, hunky Jake Washington joins in on the action. They all take turns servicing Manuel's fat cock with their hungry mouths before propping their asses up one by one in anticipation for some anal pounding.
+ Manuel Skye Fucks Jake Nobello, Jake Washington & Stig Andersen in Daddy's Day
The boys are on the hunt and are looking for twink, Ty Mitchell, and his perfect bottom now that news has spread that he has the best ass in town! Sexy stud Allen Lucas is the lucky one who finds him first so he brings him back to his place where tattooed Brian Michaels, beefy Nicolas Ryder and beau Axel Kane soon join them. They take turns sucking each other off and playing with Ty's ass before creaming all over his face in perfect unison.
+ Ty Mitchell, Axel Kane, Allen Lucas, Brian Michaels & Nicolas Ryder Orgy in Pass The Bottom Part 3
HomoPod is tired of only being able to hear sexy Enzo get fucked. He wants some of that muscular ass too! HomoPod buys himself a human body and uploads his memory into Paddy O'Brian's hunky, hot bod. Enzo can't believe his eyes! He's excited to explore HomoPod's new body starting with his straight, big dick. He turns that ass around for a wet tonguing before propping that ass up so Paddy can fuck his hole hard and deep.
+ Paddy O'Brian Fucks Enzo Rimenez in HomoPod Part 3
+ MEN.COM