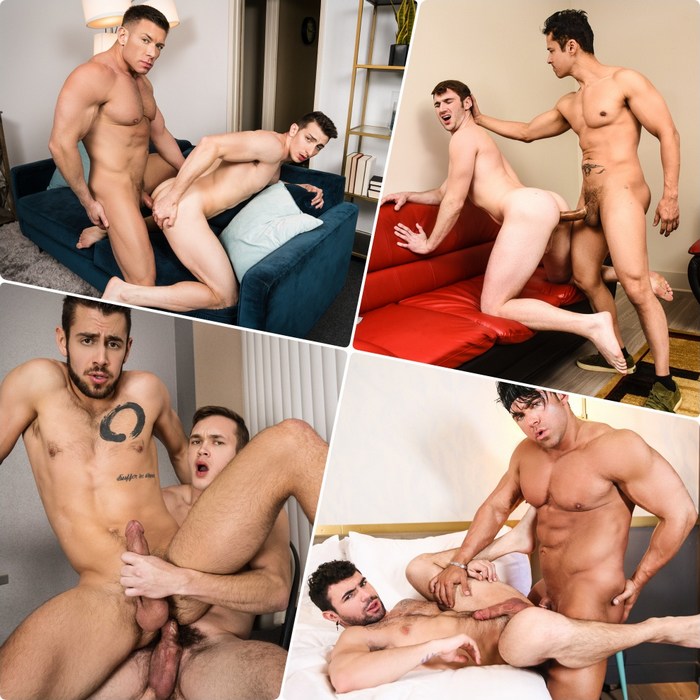 Hot sex scenes from Men.com to watch this weekend: Gay porn star Rafael Alencar fucks Michael Boston in New Cock, Who Dis?, Dante Colle bottoms for Jackson Traynor in What's Up His Ass Part 2, Bruce Beckham fucks Michael Jackman (aka Roman Tate) in The Witness Part 1: Bareback, and muscle hunk Steve Roman fucks Ian Greene in One Good Thing.
Michael Boston is a size queen through and through and when Rafael Alencar shows up packing insufficient heat, brown-eyed Michael is quick to send him away. Lucky for Rafael, modern medicine has made having a monstrously huge cock possible in a matter of minutes. Newly endowed, Rafael shows up at Michael's house again to give him a classic "big mistake, huge" moment by making Michael gag on his enormous cock then shoving it all the way into his hungry ass.
+ Rafael Alencar Fucks Michael Boston In New Cock, Who Dis?
Muscular hottie Dante Colle thinks he can just waltz through security at the airport, but the hot agent Jackson Traynor can tell there's something suspicious about him. Jackson pulls Dante aside for a closer look and sure enough, he finds out Dante is trying to smuggle a light-up butt-plug out of the country. Jackson wastes no time and takes the hung stud into the back room for an oral interrogation with his full lips wrapped around Dante's big cock, then proceeds with a thorough cavity search that leaves Dante begging for more.
+ Dante Colle Gets Fucked Bareback By Jackson Traynor In What's Up His Ass Part 2
Michael Jackman has been hired to rat out his lover Bruce Beckham. A difficult decision, but surely the only choice the muscular, brown-haired stud has left. When Bruce catches onto Michael's betrayal, the chiseled muscle daddy offers the schemer one more rough, sloppy fuck before they're separated for good. Come for the pulse pounding, hole stretching fuck fest, and stay for the shocking espionage twist in the first part of this thrilling series.
+ Bruce Beckham Fucks Michael Jackman (Roman Tate) In The Witness Part 1: Bareback
Huge, muscular stud Steven Roman is having a really bad day and wants just one thing to go right. Lucky for Steven, he has the the slim, black-haired cutie Ian Green at home ready to help him forget everything else. Ian takes Steven's dick deep in his mouth as the muscular man moans. Steven bends Ian over and plays with him, fingering and rimming his tight hole, then sticks his cock deep inside of him until the events of the day are nothing but a distant memory.