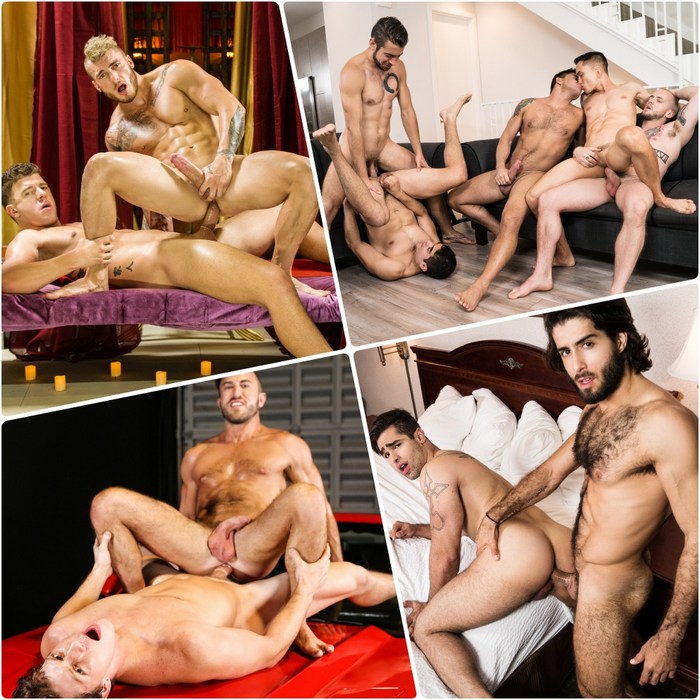 Hot sex scenes from Men.com to watch this weekend: Gay porn star William Seed gets fucked by JJ Knight's huge cock in Sacred Band Of Thebes Part 1, the bareback 5-way fuck fest starring Cazden Hunter, Colton Grey, Dante Colle, Dominic Pacifico & Marcus Tresor in The Longest Erection Of My Life Part 3, Diego Sans fucks Lucas Leon in Sex-Crazed Men Part 3, and Grant Ryan bottoms for Paul Canon in Revved Up Part 2.
Let us go back to 378BC, Greece, and revisit the story of the Sacred Band of Thebes, who were exiled to Athens after losing a battle preceded by military conflicts. The unusual band of men were lovers, and they joined forces to regain what they had lost. They were brave, loyal, dedicated, and fought to protect their own. Muscular, blond-haired Erastes (William Seed) was the dominating top among the group of men, and he chose chiseled, good-looking Eromenos (JJ Knight) to stand by his side in battle, and bed. Together they were unstoppable, and together they made sparks fly every time they would join bodies.
+ William Seed Bottoms For JJ Knight in Sacred Band Of Thebes Part 1
Chiseled stud Diego Sans just spotted a sexy, fit man walking by, and he decided to follow him back to his room. He waits until he is out of sight, and steals the key card from a house keeping cleaning cart. He sneaks into the room, and discovers the tattooed hunk in question is Lucas Leon, who's busy in the shower soaping up his round, bubble butt. Brown-haired Diego can't wait to get caught so he can slide his tongue right between those fat ass cheeks. Just enough to loosen his hole to receive his deep penetration.
+ Diego Sans Fucks Lucas Leon in Sex-Crazed Men Part 3
Tattooed, hunk Dante Colle still can't get rid of his everlasting erection, and he has a birthday party to attend. What is he going to do? He decides to stuff it in his pants and heads out. Once there, the guys notice something is off with Dante, and begin probing him until his rock hard, hung cock is revealed. Atheltic Cazden Hunter, blond-haired Colton Grey, muscular Dominic Pacifico and chiseled Marcus Tresor all have one thing in mind now, and that's to get the party really started with some hot group sex.
+ Cazden Hunter, Colton Grey, Dante Colle, Dominic Pacifico & Marcus Tresor Bareback Orgy
Tall, chiseled Grant Ryan should be busy working on athletic cutie Paul Canon's car, but he's occupied dancing the day away, and daydreaming about giving a Paul a wet, slobbering blowjob. He fantasizes about brown-haired Paul wearing a skintight leather suit, and peeling it off piece by piece before getting fucked on top of a sexy red car.
+ Paul Canon Fucks Grant Ryan in Revved Up Part 2
+ MEN.COM