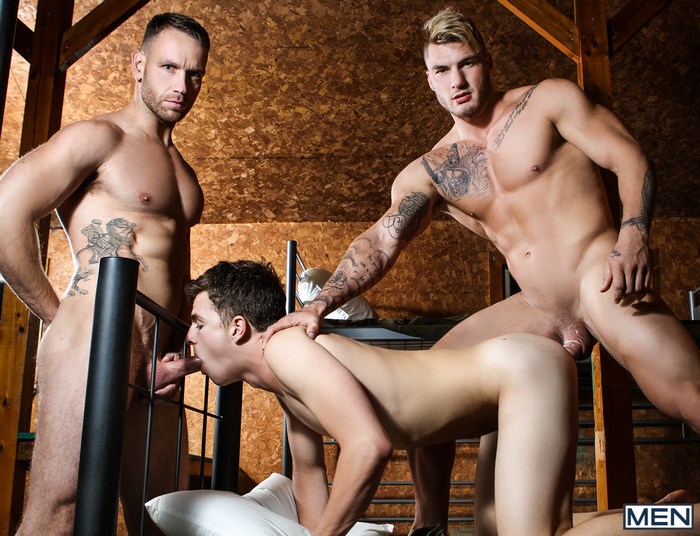 Men.com premiers its new 4-part gay porn series Battle Buddies today. Part 1 has Drill instructor Ryan Bones fucks new recruit Bellamy Bradley. And comeback tomorrow for Battle Buddies Part 2 where gay porn star William Seed and Kit Cohen tag-team Bellamy Bradley.
Don't forget to check out this Christmas-theme gay porn "A Present for Mom" where Jake Porter gets fucked by Myles Landon and Johnny Rapid bottoms for Brad Powers in "May I Join You?"
[USE THIS LINK] For Men.com Special Holiday Sale (Limited Time Offer)
Johnny Rapid is live on webcam and accidentally tells his viewers where he is. Brad Powers is nearby and wastes no time going over there. After some convincing Johnny agrees to let him join the show.
+ Johnny Rapid Gets Fucked By Brad Powers in May I Join You?
Jake Porter is introduced to his mom's new husband, Myles Landon. Under the guise of needing assistance, Jake manages to steal Myles away for just enough time to play before Mom catches on…
+ Jake Porter Bottoms For Myles Landon in A Present for Mom
Drill instructor Ryan Bones is leading initiation boot camp for all the new recruits. Bellamy Bradley gets caught fantasizing about his instructor's boner and gets exactly that when ordered to drop to his knees.
+ Ryan Bones Fucks Bellamy Bradley in Battle Buddies Part 1
Bellamy can't sleep after having Bones' dick in his throat, so he lays awake stroking his insatiable cock when the others start rustling in their bunks. Bellamy decides the best way for them to keep quiet is to do exactly as instructor Bones' taught him.
+ William Seed, Kit Cohen & Bellamy Bradley in Battle Buddies Part 2
[USE THIS LINK] For Men.com Special Holiday Sale (Limited Time Offer)