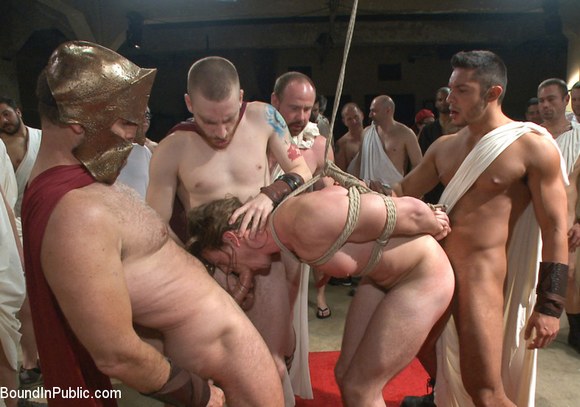 Unlike Jake Cruise and Gay Room who agreed with Michael Lucas to not release their sex scenes they filmed with porn star Seth Santoro, Fetish porn website KINKMEN.COM doesn't care with Lucas' claim that Seth Santoro is his exclusive model and keeps releasing Seth's sex scenes.
How can any blame Kink.com? Seth stars in a big Gladiator Gang-Bang scene with porn stars Trenton Ducati, Connor Maguire, Kip Johnson and a bunch of extras. A group sex like this surely cost lots of money to produce and Kink.com just released this video today.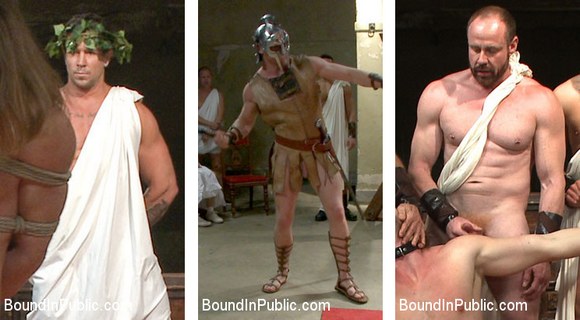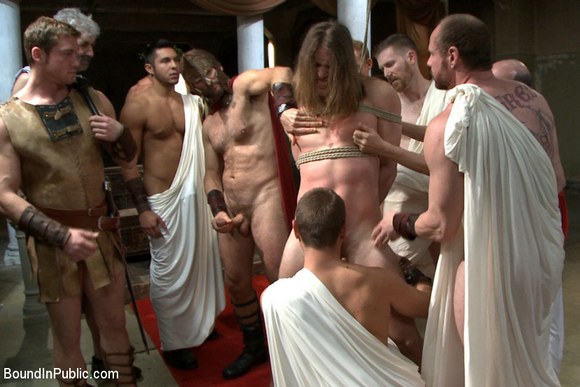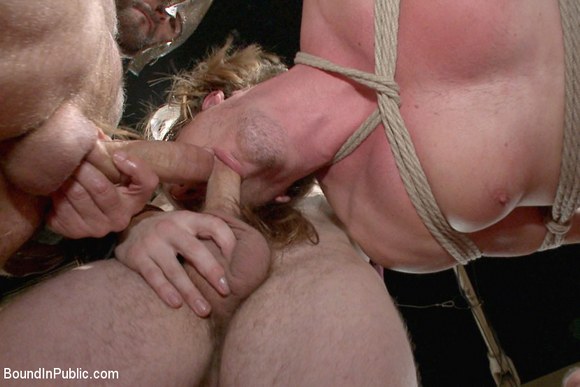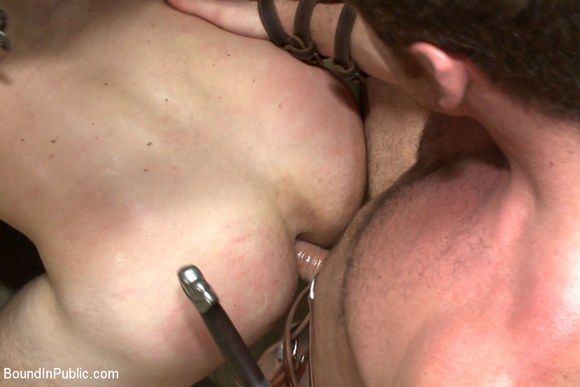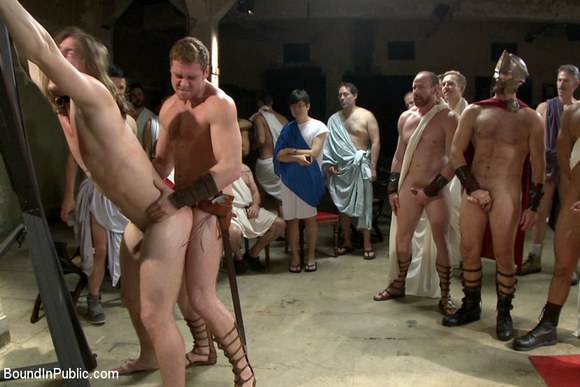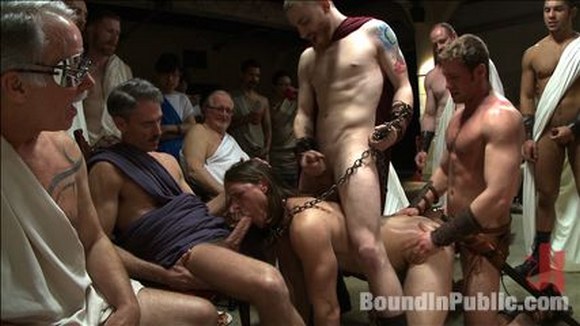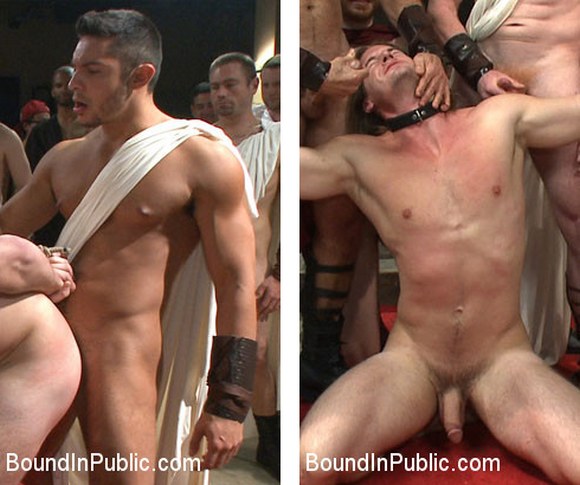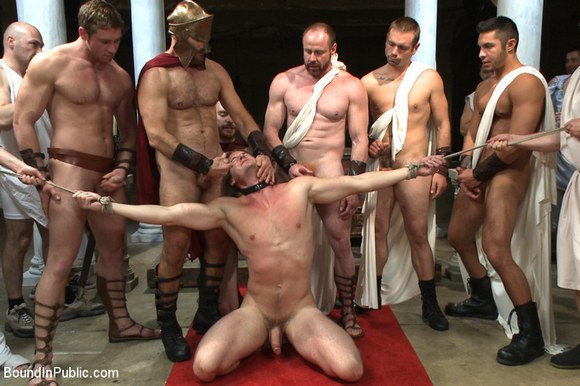 The Roman mob gathers around as an escaped gladiator is held on trial. When Caesar arrives, it's unfortunate news for the bound slave as Caesar orders the guards to begin his punishment. Connorligula lashes the slave with his flogger, before the horny mob approaches to have their way with him. The escapee is bent over and ordered to suck Roman dick as the citizens take their turns relentlessly fucking his tight hole. On his knees, the slave's then ordered to crawl on his hands and knees to pleasure more of the crowd's cocks. When he accidentally bites one of the senator's dicks, he's taken to the cross for another lashing. He's beaten front to back till his skin is beet red before the crowd comes up to fuck him once more. On his knees, the slave is held down with his arms spread, as the Romans blast their loads of cum all over his face. Cum dripping down his face, the bound gladiator is brought to his feet for more punishment and utter humiliation.
+ Escaped Gladiator Offered to The Roman Mob, As They Relentlessly Fuck Him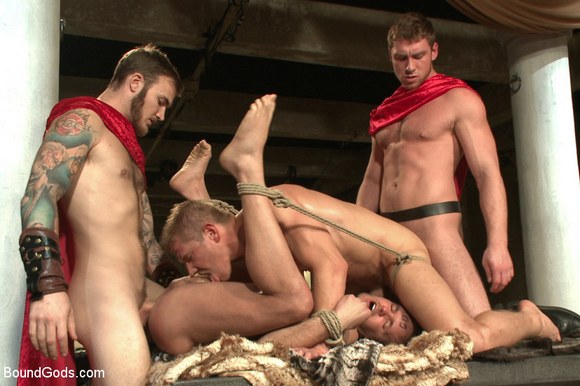 Two roman slaves are presented for their master's entertainment as they're beaten, fucked and covered in cum.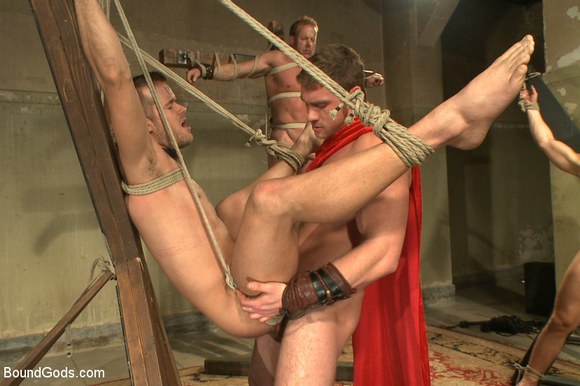 Three slaves punished for their crimes against Rome – Live Show Part Two.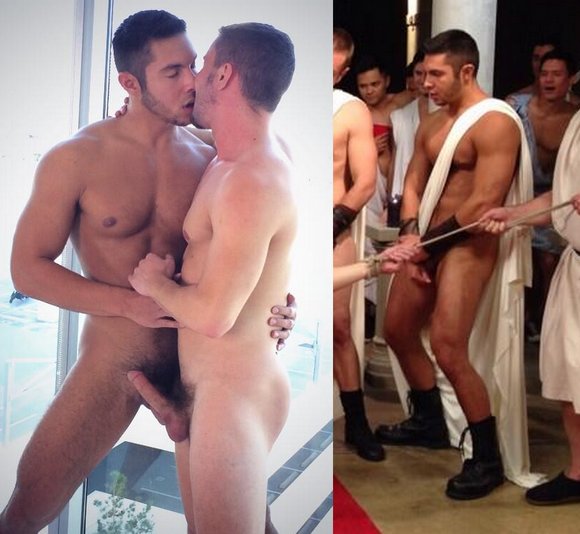 + According To Michael Lucas, Seth Treston Is Still His Exclusive Model … Seth Just Filmed A Group Sex with Kink.com