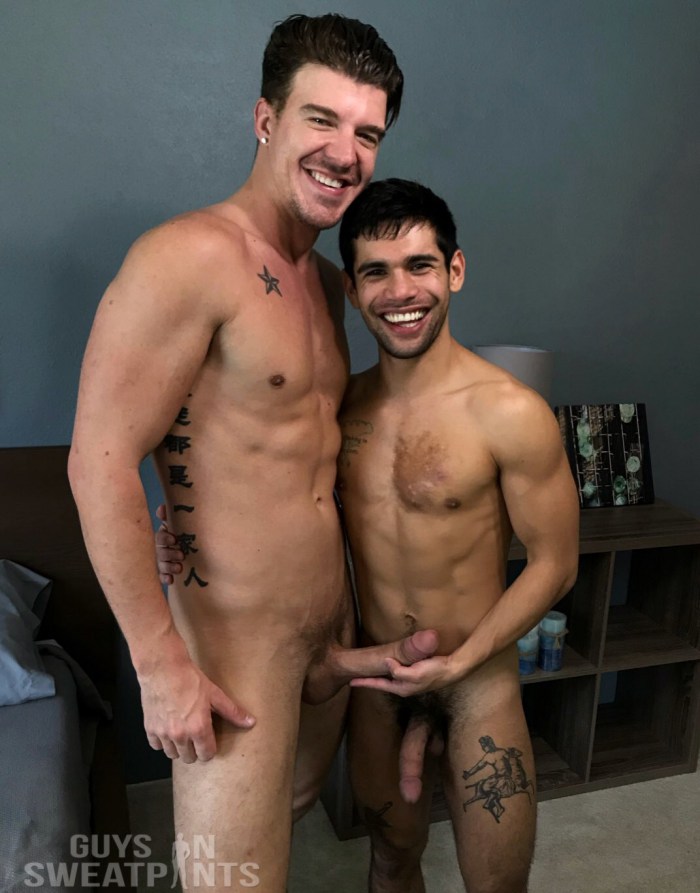 Hung gay porn star JJ Knight had been Falcon exclusive for quite a long time. And now that his contract has ended, we surely will see him working with other companies. He just shot another sex scene for Guys In Sweatpants with Ty Mitchell as scene partner. It's great to see big-dicked top like JJ with insatiable bottom like Ty. Can't wait to watch this scene. And since Guys In Sweatpants is a bareback studio while Falcon is condom, that means we are going to see JJ Knight in bareback scenes again.
This week, you can watch Jackson Reed getting fucked bareback by Ash Hendricks in his Guys In Sweatpants debut this Friday, April 6th.
Ash's fat cock is a thing of beauty, and Jackson enjoys every last inch of it in this video. Every once in awhile, he would pull it out of his mouth, look at it, and just smile. But who wouldn't?? Ash was more than happy to return the oral favor on Jackson's perfect hole, getting it nice and lubed up before he stood up and slid his fat cock all the way into it. Gotta love the look of ecstasy on a bottom's face when you hit that spot for the first time. Their fucking is super hot, but I think the hottest part is when Ash has Jackson flat on the bed, pounding him, and Jackson just begs for more! Ash's loads are always explosive, and this is no exception. Cum makes for the best lube for sliding his cock back in Jackson too!