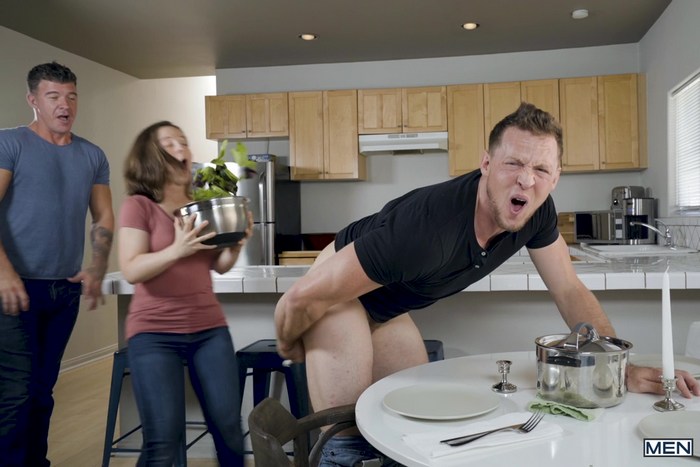 Here we go again… I'm sure none of you can forget that Right In Front Of My Salad? (It even had a sequel.) It became internet meme on mainstream media last year. Now it looks like Men.com has come up with another ridiculous gay porn scenario that involve a girlfriend, butt sex, and a bowl of salad again.
They paired two gay porn stars with the biggest cocks in the industry JJ Knight and Pierce Paris together for this occasion. Pierce plays a guy who loves ass play and enjoys sticking random objects like candle and cucumber up his butt. As you can guess what happens next. His girlfriend walks in with a bowl of salad followed by Pierce Paris getting fucked by JJ Knight's gigantic cock. Check out the trailer below. The full video called "Closet Bottom" will be online on November 9th.
Athletic, good-looking Pierce Paris loves a little ass play, but his girlfriend really isn't into it. He spends his time fantasizing about it, and sticking random objects up his ass so he can relieve the tension. While preparing dinner he notices the candle he's about to light is the perfect size for his eager hole, and decides to fuck himself with it instead. His girlfriend walks in the room with hunky, chiseled JJ Knight, and catches him mid-stroke! She takes off, but tattooed JJ sees this as an opportunity to fulfill his own needs by offering up his big, hung dick.
+ JJ Knight Fucks Pierce Paris in Closet Bottom [Coming November 9]
+ MEN.COM