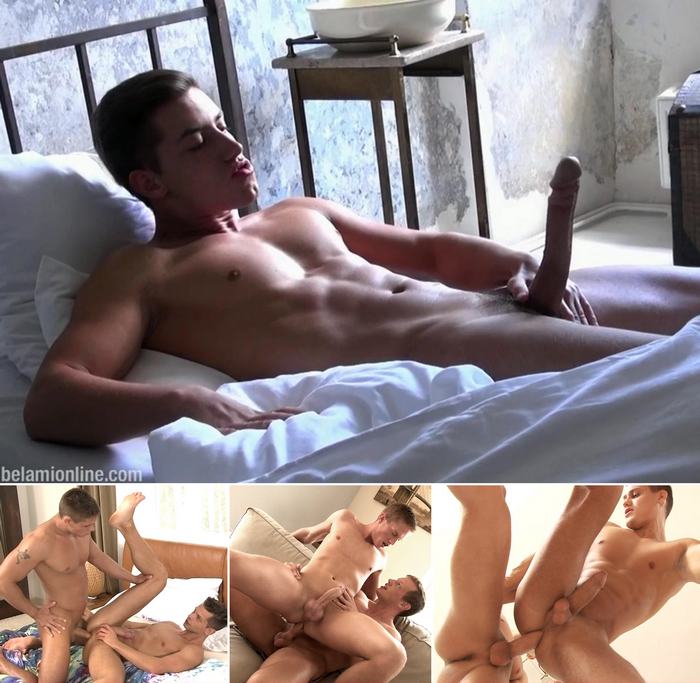 Back in 2012, BelAmi's Scandal In The Vatican was one of the most controversial gay porn movies of the year. It was filmed on location in the Vatican, featured BelAmi porn stars dressed as priests and Catholic clerical students and Pope Benedict XVI blessing the main actors in a Vatican meeting.
Last year, I reported that BelAmi was shooting the sequel to Scandal In The Vatican in Rome. They just released the teaser trailer of Scandal In The Vatican 2: The Swiss Guard in the member section of BELAMIONLINE.COMM. It shows Joel Birkin, that new BelAmi model with gigantic cock.
In this sequel to 'Sin City' our boys are back in the Vatican in search of the hottest Swiss Guards that they can find, but the path to pleasure is not so straight forward, there are bargains to be made and challenges to overcome. The first of these is a horny priest, played by none other than Joel Birkin (carrying on the tradition of the big dicked priest in part 1 played by Trevor Yates)….
The first scene of Scandal In The Vatican 2: The Swiss Guard will be released this September. And don't forget to check out these hot sex scenes: Vadim Farrell and Rhys Jagger flip-fuck raw and Brian Jovovich fucks Yuri Alpatow.
Scandal In The Vatican 2: The Swiss Guard Coming September 2015.
+ Condom Free: Vadim Farrell and Rhys Jagger Flip-Fuck
+ Condom Free: Brian Jovovich Fucks Yuri Alpatow