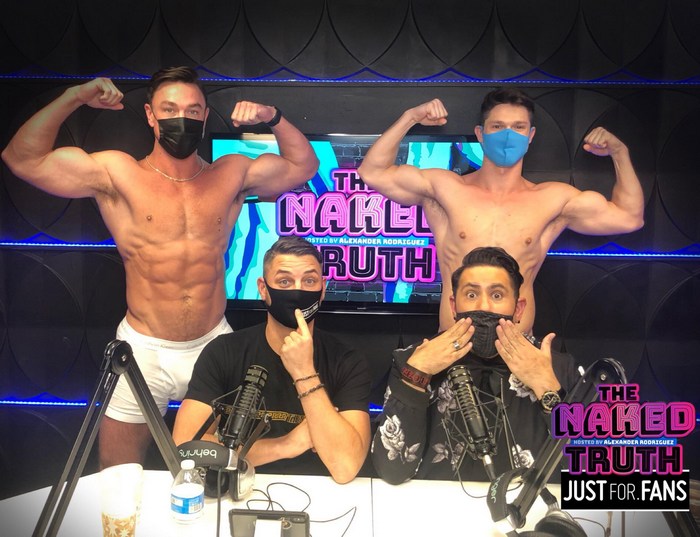 JustFor.Fans just debuted a podcast called The Naked Truth hosted by Alexander Rodriguez and JustForFans Director of Events, Anthony John. They interview two hot Falcon exclusive gay porn stars Cade Maddox and Devin Franco in episode 1, followed by JJ Knight and Ricky Roman in episode 2.
You can listen to The Naked Truth on all major podcasting platforms like Apple Podcasts or watch it on OutAt.TV.
"…close the door, turn down the lights, and turn up the volume…it's time for The Naked Truth…and jazz hands!" The adult industry award-winning site JustForFans enters the podcast market with the launch of their debut podcast, titled The Naked Truth.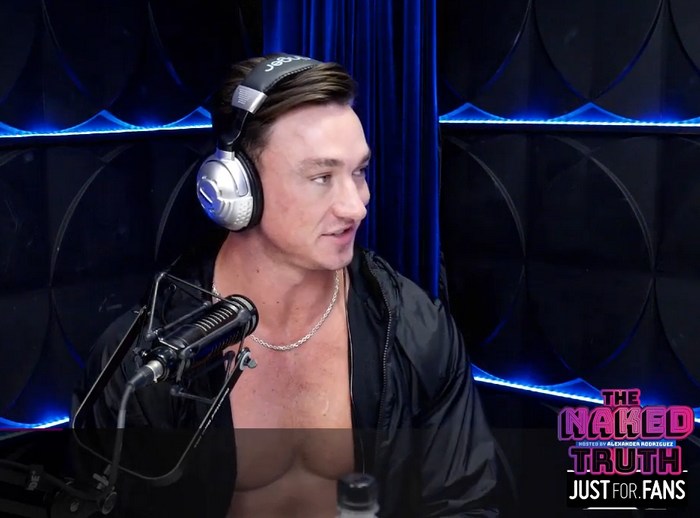 The Naked Truth is a bi-weekly podcast, streaming via video and audio, featuring raw and uncensored adult chat with the stars of JustForFans – sex tips, hot topics, behind the scenes stories, and rapid-fire questions round out each episode. Things heat up with a mid-show Strip Trivia round…how much will the stars take off? Tune in and find out. The show features a unique blend of comedy and sex, hosted by popular LGBT, on-air personality, and journalist Alexander Rodriguez with his co-host, JustForFans Director of Events, Anthony John. Says Alexander, "We wanted to create a fun environment where no question is off-limits, where fans can see their favorite JustForFans content creators in a different light. Hilarity ensues as we talk about the raciest subjects while I pretend to be an innocent, delicate flower. PS, I'm no such thing."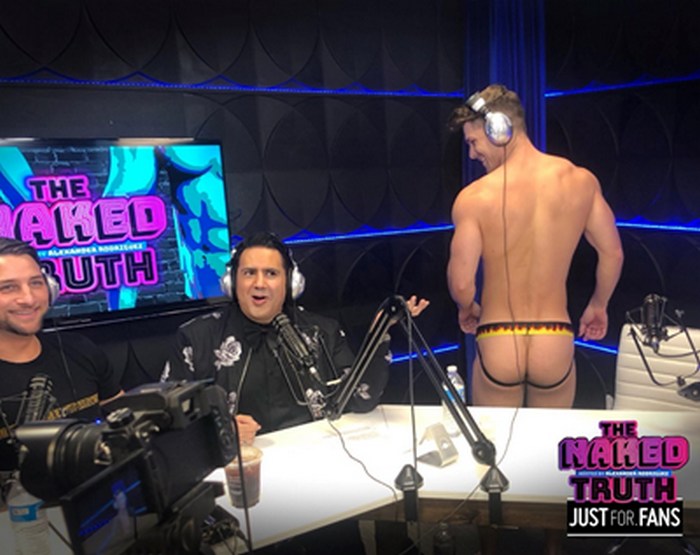 The first series of episodes features Falcon Exclusives Cade Maddox and Devin Franco, Godzilla hung star JJ Knight, Industry favorite Ricky Roman, dominatrix Madame Margherite, and the King of anonymously filmed hookups, Eddy Ceetee. Opening topics include gay for pay, cancel culture in the adult industry, BDSM, and love and dating in the porn world. The episodes also offer a look at the personal lives of each star. JustForFans founder Dominic Ford states, "We are very proud of our first handful of episodes and excited to be joining the ever-growing podcast market. We are extremely proud of the quality of content our stars continue to produce and are equally as proud of the diversity that we offer, something we aim to reflect in our podcast. The humor we add to the mix makes this a fun listen for anyone, not just porn lovers."

The Naked Truth is available on all major podcasting platforms, including iHeartRadio, Spotify, AmazonMusic, and ApplePodcasts. The show can be watched on AppleTV, ROKU, and AmazonFireTV on the OutAt.TV app for free.
On our debut episode of The Naked Truth, we chat with adult film stars, Grabby Awards Hottest Top Cade Maddox and Hottest Bottom Devin Franco as we get tips on how to be the perfect bottom or the perfect top! We also chat about cancel culture in the adult film world, creating chemistry with your costars, and what sex life is like beyond the camera. Things heat up as our guests strip down for The Naked Truth Sex Trivia! Hosted by on-air personality Alexander Rodriguez and JustForFans Director of Events Anthony John.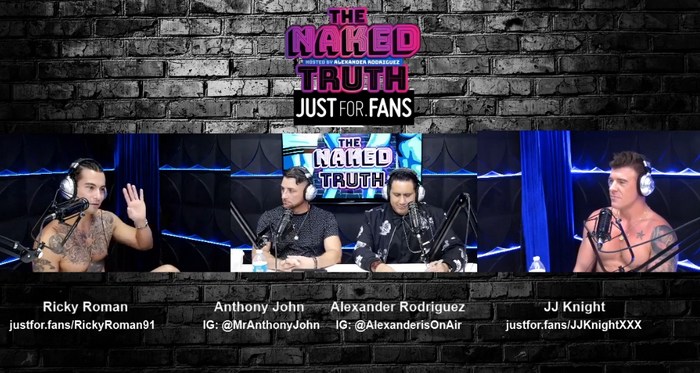 + Watch JJ Knight / Ricky Roman: The Naked Truth JustForFans Official Podcast Ep 2
+ Cade Maddox @ JustFor.Fans | Devin Franco @ JustFor.Fans | JJ Knight @ JustFor.Fans | Ricky Roman @ JustFor.Fans
+ Check Out Gay Porn Stars & Hot Guys' Sex Tapes On JUSTFOR.FANS