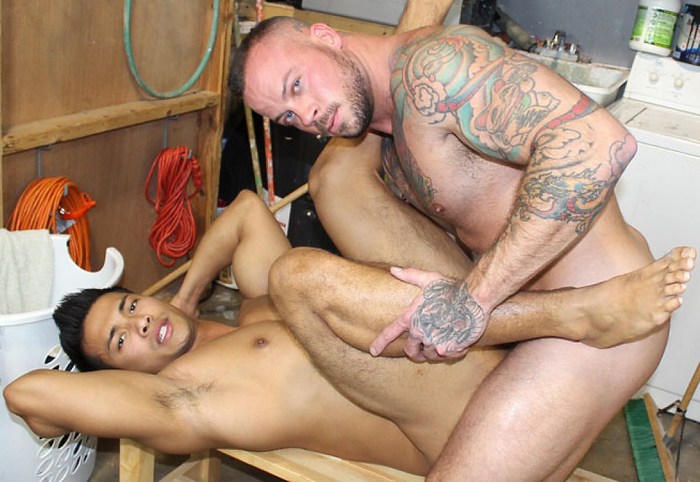 We watched Ken Ott as a top in the 3-way with Osiris Blade & Levy Foxx. Now I'm glad to see this muscle jock as a bottom in episode 3 of PeterFever's Black Panther Gay Porn Parody, BLACK PANDA. Check out the XXX trailer from this scene Ken Ott gets fucked by gay porn star Sean Duran below.
[USE THIS LINK] To Get 50% OFF PeterFever.com
After being discovered spying on the Panda Brotherhood by The Black Panda, agents Duran and Evans are quarantined in separate utility closets. Unable to contain his curiosity, Ken Ott decides to pay a visit to Agent Duran to discover just how far the stud is willing to go to get some fresh Peckeranium. Agent Duran is willing to do anything so Ken whips out his dick and tells the stud to start sucking. Sean gets on his knees and gets hard as a rock as Ken's meaty boner goes in and out of his mouth. When Sean can no longer contain himself, he bends Ken over and slides his throbbing cock deep into the young buck's ass. He pumps away keeping a steady pace until he can no longer hold back and pulls out to spray his load all over Ken's tight sack. The feeling of Sean's warm jizz hitting his crotch is all it takes for Ken to let loose. Using Sean's fresh load as lube, Ken unleashes a gusher and covers himself in a river of creamy white Peckeranium. Sensing the power in Ken's load, Sean tries to get a taste of the elixir, will Ken Ott allow the special agent to drink from the fountain of youth? Or will he get burned and learn his lesson from flying too close to the sun?
[USE THIS LINK] To Get 50% OFF PeterFever.com