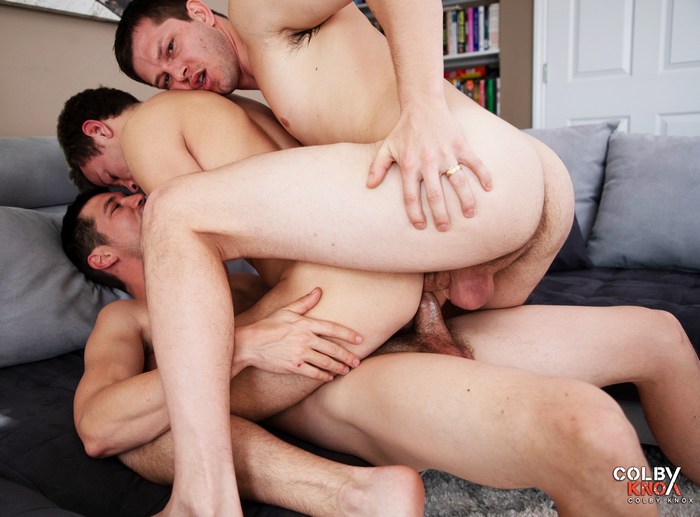 The last time I saw gay porn star Logan Cross getting DP'd was back in 2016. He took Blake Mitchell & Wes Campbell at the same in that scene from Helix Studios. This time you can watch cute bottom Logan Cross gets double penetrated raw by Colby Chambers & Mickey Knox.
Be sure to check out Mickey Knox's JustFor.Fans and Colby Chambers' JustFor.Fans profiles for more.
This weeks new release from ColbyKnox is really something special. Its no secret that Colby Chambers and Mickey Knox have off the charts chemistry with Logan Cross, but this video really raises the bar. Logan let the boys know when they were scheduling that he would love to try a DP scene, of course Colby and Mickey jumped all over it. We join the boys with no illusion of the 4th wall as they introduce themselves and glaze over their excitement for what's about to go down. With introductions covered Colby and Mickey turn their full attention to the enigmatic sexy muscle twunk, Logan Cross. With Logan in the middle Colby and Mickey begin to worship Logan's sexy smooth physique, seemingly devouring every last ripped inch of the young stud. Mickey starts moving toward Logan's thighs, grabbing a nice big handful of his already raging hard on. He pulls out Logans throbbing cock and starts to slobber and suck away on it. Logan gets Mickey Knox laid out across the couch, mounts his face and starts to shove his dick in and out of Mickeys mouth. With Logans ass in the air Colby moves in behind him and starts licking away at his perfect pink asshole. Mickey Knox trades places with Colby moving his hard and ready dick around Logans freshly eaten hole. Logan starts to suck on Colby's dick while Mickey eases inside of him. Mickey fucks the hell out of Logan until Colby, practically foaming at the mouth, finally gets his turn. Logan mounts Colby while Mickey watches, using his thick tan thighs to ease up and down on Colby's cock. Then it happens, Mickey slips into position and puts a second thick dick, right up Logans hungry ass. The boys are so fluid and natural throughout this video, its no wonder it has a final cumshot count of 6. That's 2 per stud, enjoy!!!
+ Logan Cross DP'd Bareback By Colby Chambers & Mickey Knox
WATCH: Mickey Knox's JustFor.Fans | Colby Chambers' JustFor.Fans
+ Check Out Gay Porn Stars & Hot Guys' Sex Tapes On JUSTFOR.FANS