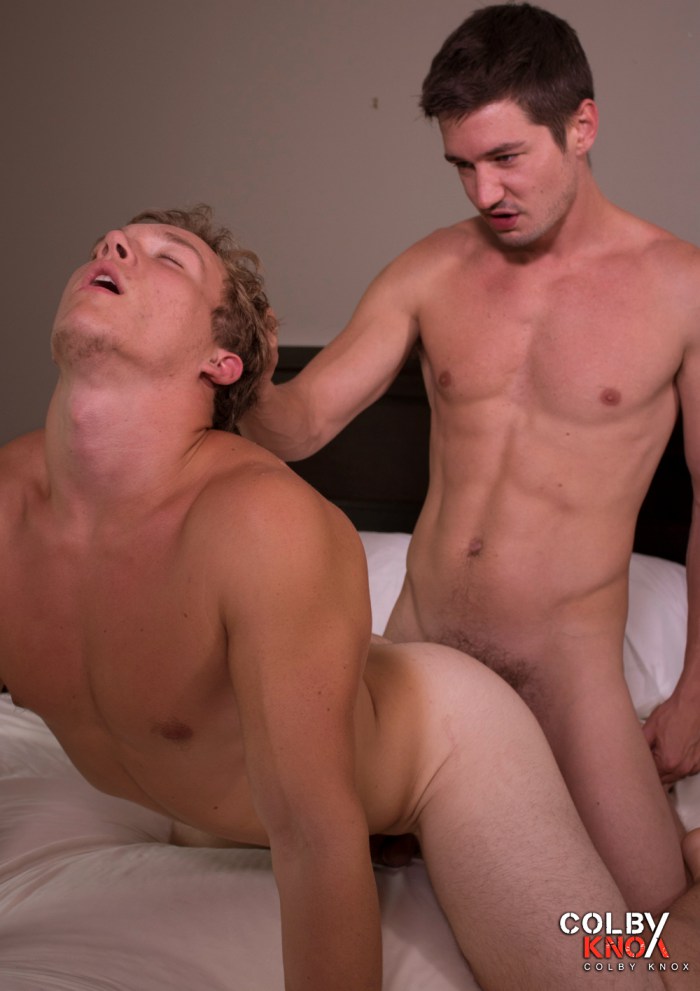 ColbyKnox discovered this hot 19 year-old gymnastic jock Luke Roman at a local gay bar. This cutie is also very musically inclined and plays guitar and piano and dabbles with several others. I hope we will see more of him soon. He describes himself as "bisexual" but prefers to bottom when hooks up with guy. You can learn more about him in the interview video done after his gay porn debut where Luke Roman gets fucked by Colby Chambers. Maybe he's nervous, but one of the cutest thing about this scene is how Luke giggles while being fucked in the butt. Check out the short video clip below.
Luke is a very fun, energetic and active 19 year old. He likes to go to clubs and dance, but he LOVES to go go and show off his beautiful rock hard physique and impressive gymnastic moves. He is recently out of school and taking time to enjoy life and take a breather. On top of being very easy on the eyes he is also very easy to talk to, with a great sense of humor. Luke prefers to bottom and its easy to see why with a beautiful plump ass like his, its all muscle. Luke is always eager to bend over and let someone pound away at his tight muscular ass.
Luke Roman is a sexy stud that Colby met while having drinks at the bar. Luke was serving shots in these tiny white briefs that hugged his ass and Colby could not help but grab it. After a few drinks Colby worked up his courage to ask if Luke would be interested in coming home and making a video for the site. Luke figured he was going to fuck Colby tonight anyways so might as well make some money doing it. Colby was thrilled to hear that Luke was down and told him they could do it the following morning but for now they plan to party all night. The following morning was a little rough at first but after some juice and toast the boys were ready to fuck. Luke's buff body felt amazing pinned under Colby's weight as he rubbed his hands up and down his body. Colby used his position to drive his hard dick deep inside Luke and watched his face to see if he liked it.