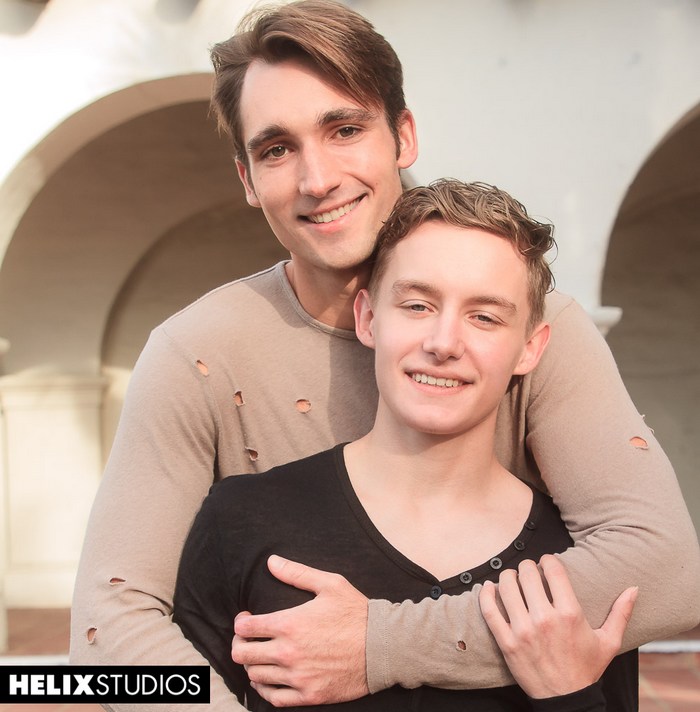 I'm sure you guys can tell I'm a fan of handsome Helix gay porn star Luke Wilder now. He fucked Cole Claire raw in his porn debut. Now it's time for his second scene. This time it's a reenactment of Luke's first lustful encounter with a boy (played by cutie Leo Frost. Check out this hot video Luke Wilder fucks Leo Frost bareback.
Luke Wilder Reenacts His First Time Lustful Encounter With A Boy and Fucks Cutie Leo Frost Bareback #GayPorn @SirLukeWilder @LeoFrostXXX @HelixStudios

MORE ? (https://t.co/vYpetEC8qg) pic.twitter.com/uLIV74Sc86

— Queer Me Now (@QueerMeNow) December 10, 2017
Uber hottie masculine, muscled up surfer dude Luke Wilder is prime cut fresh new piece of bisexual meat on the scene. He's just discovering he likes boys, twinks specifically. Here, our muscled up young newbie spills his sexy secret about the first time a tasty college twink caught his eye AND his cock! Wilder talks us through every delicious dirty detail as super twink Leo Frost happily helps him reenact every exciting moment of Leo's first time with a guy! Like a fly on the wall this sex scene fulfills every pervy voyeuristic ball slamming, bareback fuck fantasy you've ever had. Pretty boy Leo suggests sex dice to get the party started and when the double dice are rolled landing o "lick" and "butt' Wilder stuffs his hungry mouth in in Frost's smooth fanny and only comes up for air to shove in condom free cock deep inside! Luke is in lusty heaven when Leo reenacts the raw riding scene. The dirty blond boy's boner slaps against our surfer sluts smooth, chiseled chest as our top smiles, realizing for the first time this is exactly what he needs. With surfer boy's boner up a boy's butt for the first time, Frost's phallus goes off, spreading seed everywhere like an unmanned firehose! Wilder follows, dousing the boy with all the excitement of a fabulous first time fuck!
+ Luke Wilder Fucks Leo Frost Bareback in First Time Flashback
+ More of Luke Wilder | Leo Frost