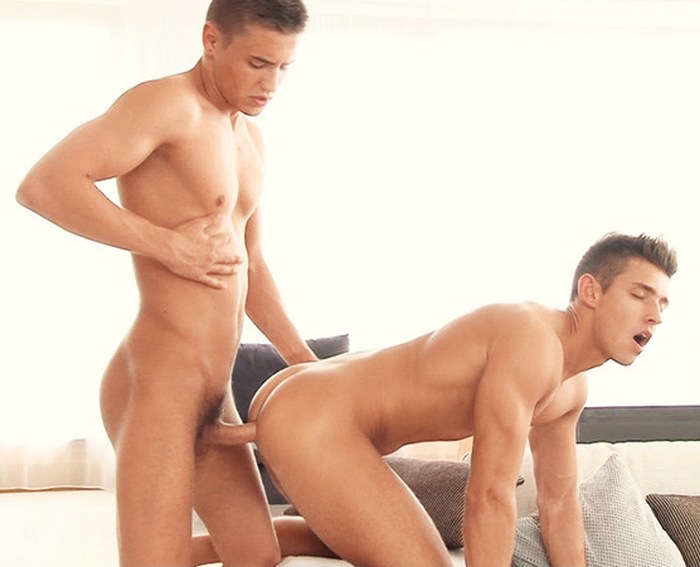 This hot new muscle bottom Mario Texeira made gay porn debut last November getting fucked by Adam Archuleta. We then watched him bottom for Nate Donaghy earlier this year. I'm happy to see this hot muscle bottom in action again. This time Mario Texeira gets fucked raw and creampied by Jason Bacall in the latest update from FRESHMEN.
Over at BelAmi main website, you can also watch hottie Nils Tatum fucks Serge Cavalli bareback.
You may be a little confused (as were we) when in the opening of this scene with Nils and Serge, we actually are waking up Serge and Niall Morris. The confusion however is quickly cleared up when we find Nils in the bathroom getting ready for the day head. It seems here that Serge has a much higher sex drive than Nial, requiring a good fuck every morning to get the day started well, but Nial is desperately in need of a morning off, so he calls in a favor with Nils to take on the job for him today. Nils does not need asking twice for a chance like this and is more than happy to give Serge his morning dose of dick.
+ Nils Tatum Fucks Serge Cavalli Bareback on BELAMIONLINE.COM
Our exotic beauty, Damien Chapelle, wants to be a top tier porn-star. He is willing to take all the advice he can get to achieve this goal. Until now, Kevin has been his only trainer. So today he is reaching out to another experienced performer- Andy McCallister. From Andy, Damien desires a fresh perspective on the essentials of being a Bel Ami star. Andy's dick up his ass and a great fuck is just a nice bonus!
+ Andy McAllister Fucks Damian Chapelle
Here is a special treat- a third hardcore scene for you featuring Mael and Kieran! This is an early scene with Mael "finding his feet" at BelAmi. Though, judging from the action Mael's inexperience barely shows. Kieran is, as always, charming and sexy, and eager to take as much of Mael's big cock up his ass as he can.
+ Kieran Benning Bottoms For Mael Gauthier

Our headlining scene with Mario Texeira and Jason Bacall is a romantic morning encounter that takes us from the bed, to the shower, and onto some impassioned lovemaking. Since Mario's introductory/training scene with Adam last year, he has been in a second crowd-pleasing scene with Nate. Now he is with another blue-eyed cutie, Jason Bacall. We suspect that the raves for this scene will be as abundant as they were for Mario's previous two encounters.