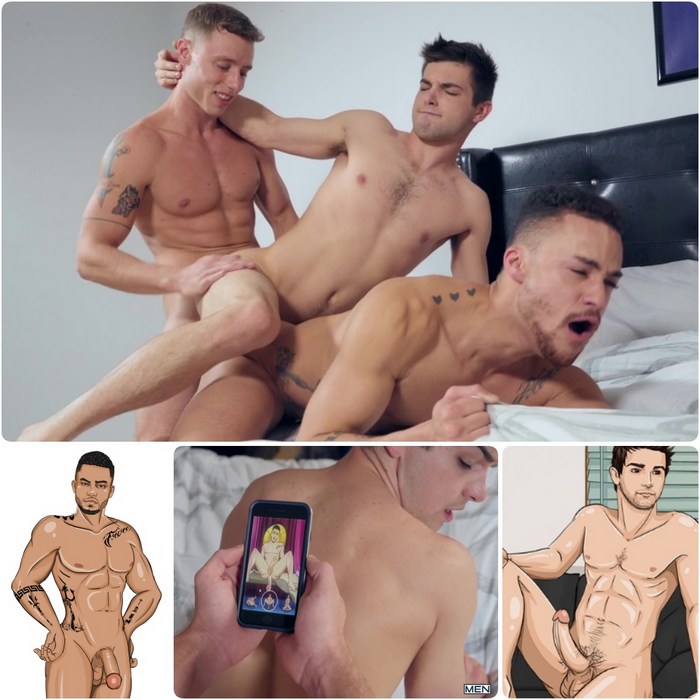 If you enjoy playing Nutaku's free gay porn game MEN BANG!, I have an exclusive interview with the game developer for you. Check out the interview below in case you want to know the process of how the game was made.
This Saturday, Men.com will release MEN BANG Part 3 and this time Justin Matthews fucks Johnny Rapid and Beaux Banks in a hot 3-way. Check out the XXX trailer below.
Men Bang Game Developer Exclusive Interview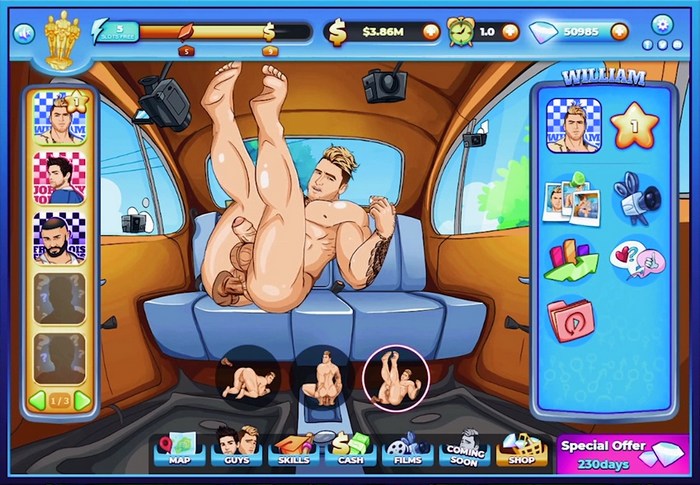 Why did you choose to collaborate with Men.com for your first gay adult game?
Nutaku Publishing is looking at all aspects of the adult gaming market and it simply made sense to push games that are inclusive to our core market. Men.com was a no brainer since it's one of our internal IP's. Everyone saw a great opportunity to expand our catalogue of games.
Could you please walk us through the process of creating Men Gang! game?
To create Men Bang, we used a core model from some of our more successful games and looked at the Men.com market to see where we had synergies.
This helped the design team to determine the best visual style and game play mechanics for our game while Men.com chose personalities from our list of interested models. We chose to base the game around Fake Lay which has been a successful game for Nutaku Publishing… And the production began.
The development team began to create art assets of the characters, the environments and toys. A writer created storylines for each model based on their own personalities.
How did you pick the gay porn stars to feature in the game?
Men.com contacted their models, pitched the idea and they were all excited to be part of the game and this new genre of adult content.
Why did you decide to make Paddy O'Brian's character twins?
When making a game like Men Bang, it's important to be as inclusive as possible while leaving room to add more and more models throughout the lifespan of the game. Men.com and the production team did many hours of analysis to pinpoint what our players would enjoy playing. This ultimately lead to a twins fantasy opportunity with the game.
Do you plan to make more adult games based on real-life gay porn stars? If so, could you give us a sneak peek?
We certainly are and in fact have more fantastic games in production, but you'll just need to sign up for the newsletter and continue to play our games.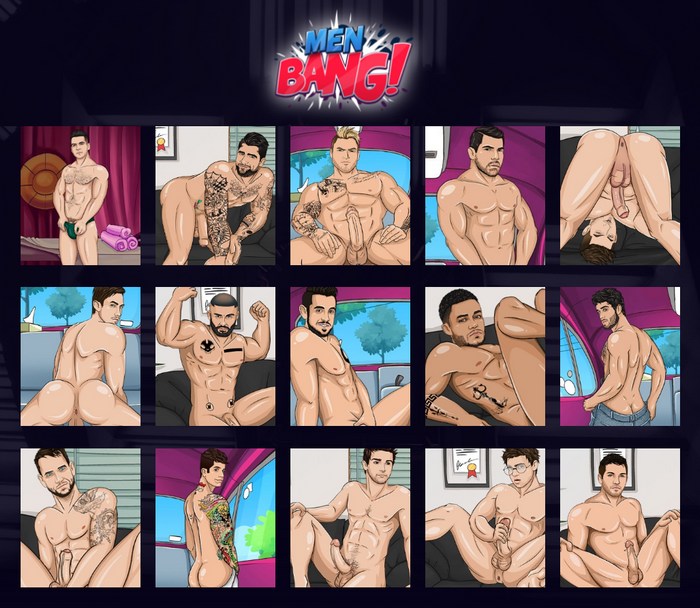 + MEN BANG! Free Adult Online Game Featuring Real-Life Gay Porn Stars
Blond-haired, chiseled Justin Matthews is fully immersed in the new Men Bang game, and he's about to beat his own record! He can't wait to receive his reward in the form of cute twink Johnny Rapid, but what he doesn't know is that a new challenge is about to present itself, and hot stud Beaux Banks is the prize for this bonus round. These two bottoms definitely put Justin's big, cut cock to the test as he fucks his way to the final level.
+ Justin Matthews Fucks Johnny Rapid & Beaux Banks in MEN BANG Part 3 [January 19]