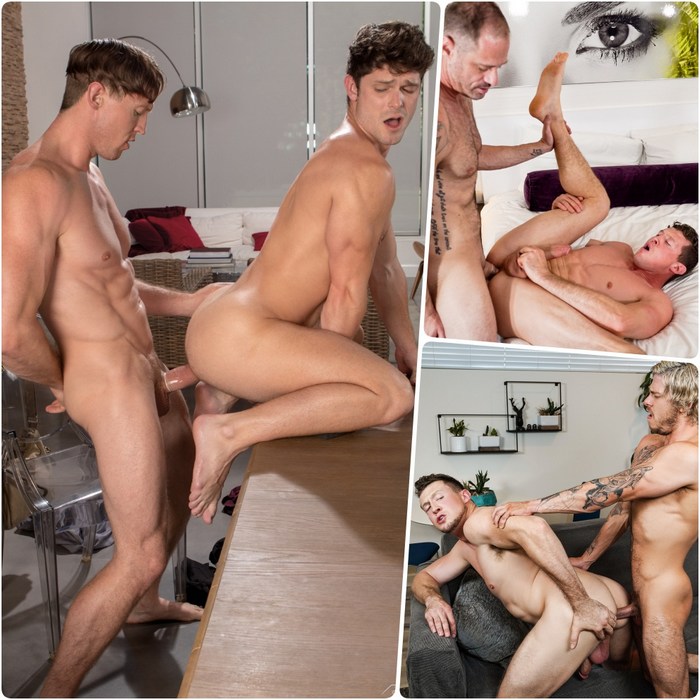 With the popularity of service like Only.Fans and JustFor.Fans, gay porn star Pierce Paris is now working on his personal project he called OnlyVans.
I am currently forming a list of performers that are interested in shooting mobile content. My van is also available as a mobile content filming location. I am able to film with my Camera's and edit free of charge for content trade.
So I guess we are about to see American porn models fucking in his OnlyVans soon. This week you watch: Pierce Paris bottoms for daddy D.Arclyte in Icon Male's Gay Massage House Volume 6, gets fucked by newcomer Blake Ryder in Men.com's Blow It Part 1, and fucks power bottom Devin Franco in Falcon Studios' Work It Up movie.
I have officially ordered everything I need for my van OnlyFans project. Just waiting for the rest of the stuff in the mail, then a massive installation/ functionality tests and then filming starts. pic.twitter.com/bIa2Lj94zi

— Pierce Paris (@PierceParisXXX) August 26, 2018
Look what daddy built? 1 TB home surveillance system in a van powered by solar energy why not? #OnlyVans pic.twitter.com/2EYeXM9mHf

— Pierce Paris (@PierceParisXXX) August 31, 2018
I am currently forming a list of performers that are interested In shooting mobile content. My van is also available as a mobile content filming location. I am able to film with my Camera's and edit free of charge for content trade. DM me for for more details #OnlyVans pic.twitter.com/SEIKu1Vv6p

— Pierce Paris (@PierceParisXXX) September 3, 2018
+ Pierce Paris Bottoms For D.Arclyte in GAY MASSAGE HOUSE Volume 6
+ Pierce Paris Gets Fucked By Blake Ryder in BLOW IT Part 1
+ MEN.COM
+ Pierce Paris Fucks Devin Franco in WORK IT UP