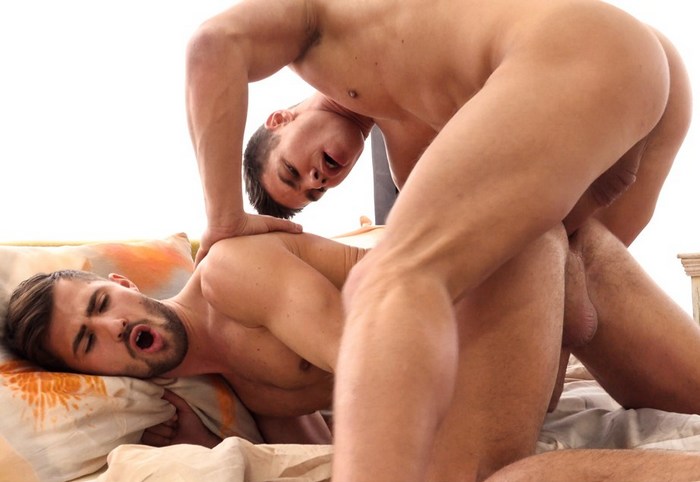 Handsome BelAmi model Pierre Cezanne made his porn debut months ago on Freshmen in a flip-fuck scene with Serge Cavalli. Today he makes his first appearance on BelAmi main website and this time you can watch Pierre Cezanne get fucked bareback by gay porn star Adam Archuleta. Of course Adam blows huge load all over Pierre when they finish. 😉
This week you can also watch Mario Texeira bottom for Jean-Luc Bisset and Danny Defoe fuck Matthieu Pique on Freshmen.
Both Jean-Luc and Mario have a lot in common. They're of similar height and build, they're both sensual, erotic lovers that value taking care of their partner's needs. No effort is spared as they both work towards that end: sensuous blow jobs, intense rimming and deep fucking are all displayed. Typically, we see Jean-Luc as an impassioned sexy bottom. Today that role is given to Mario. That his time bottoming has given Jean-Luc greater insight as a top is evidenced by the sensual moans he induces from Mario. Fully satisfying his lover, Jean Luc celebrates by shooting his load all over Mario's eagerly waiting hole.
+ Mario Texeira Bottoms For Jean-Luc Bisset on FRESHMEN
Many of you have noticed that coming up with original scene openings is a constant struggle for Marty. There are days, like this day, where he can't meet this challenge. So, he decided to delegate the responsibility to the scene's stars- Danny Defoe and Matthieu Pique. The boy's discussion fails to inspire an original idea. But it does rouse Danny's libido who decides that he's more interested in Matthieu's seminal juices than his creative juices and elects to go straight to the sex. Danny has grown since he's started with us. He's lost some of the sharpness of his facial features but has kept his youthful physique growing into a very handsome young man. The expertise Danny lacks in creating scene openings he exhibits in handling Matthieu's openings finding all the right spots. He fucks him till he moans in pleasure bringing forth a copious amount of that desired seminal juice for a cum facial.
+ Danny Defoe Fucks Matthieu Pique Raw on FRESHMEN
It sometimes happens that models cancel a shoot at the last minute, and that is just what happens to poor Pierre today. When Adam delivers his 'I have bad news, and bad news' statement, Pierre must think that he is being sent home with blue balls, after he had been saving himself for a week for this encounter. Lucky for him Adam is willing to sacrifice himself for the greater good and stand in for our missing model. Luke is our cameraman here, and he is training Jerome as 2nd cameraman (although it is evident that Jerome would still rather be in from of the camera this time).
+ Pierre Cezanne Bottoms For Adam Archuleta
+ More of Pierre Cezanne | Adam Archuleta