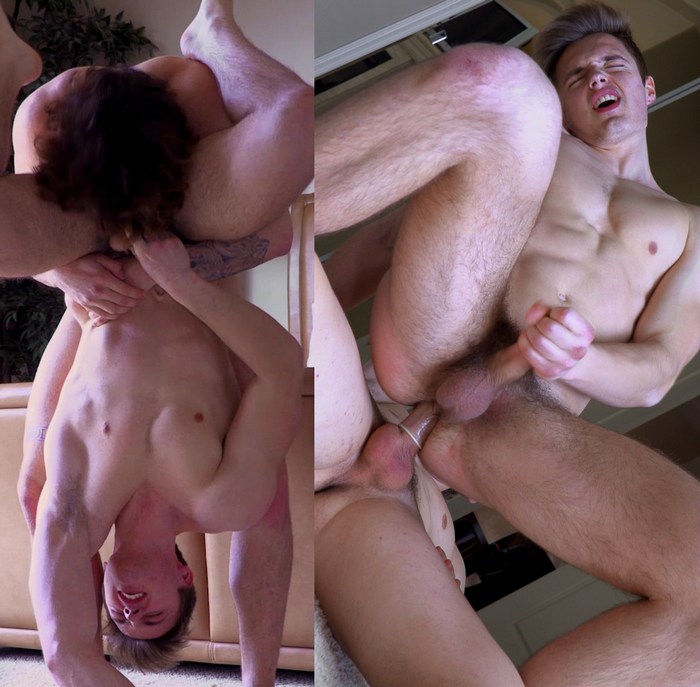 We recently watched long-haired jock Randy Reno fucking bodybuilder Collin Simpson, in his gay porn debut on GayHoopla. Now it's time for him to welcome another hottie Blake Michael to porn. Reno also shows us how strong he is by lifting Blake off the ground and gives him a gravity-defying upside-down rimjob. Check out the trailer of this scene Randy Reno fucks Blake Michael below.
Blake Michael is that boy-next-door that offers to cut your lawn simply out of the kindness of his big heart. Ultra friendly and BEAUTIFUL, Blake is one of a kind and we are honored to have him here at GayHoopla. This ripped young jock stud has always been motivated to improve his physique. Blake likes to take things to personal levels that he's never been to before. Must be where that fierce determination in the gym comes from. Not only does Blake take his training to the extreme, he lives his life by that rule as well. Constantly pushing his own limits to learn more about himself and find out what he is really capable of. This hunk never backs down from a challenge and we love that about him.
It seems like it was just yesterday that Blake Michael found us at GayHoopla to shoot his solo. Well, it just so happens that Randy Reno was in town to shoot for us as well and when these two first laid eyes on each other, it was like, "Helloooo… Blake/Randy… Are you there?". Some believe in love at first sight, I think what Blake & Randy have is as close as it gets to that. There is something about that fire you get during the initial attraction with the right person. Whatever that fire is, these two have it. The way Blake rides Randy's big jock cock makes us think that this is the start of a beautiful tenure with us at GayHoopla… and we can't wait to share it with all of you soon! First though, sit back and really enjoy this intense, passion filled, romp with these two gorgeous young hunks!
+ Long Hair Jock Randy Reno Fucks The Beautiful Blake Michael