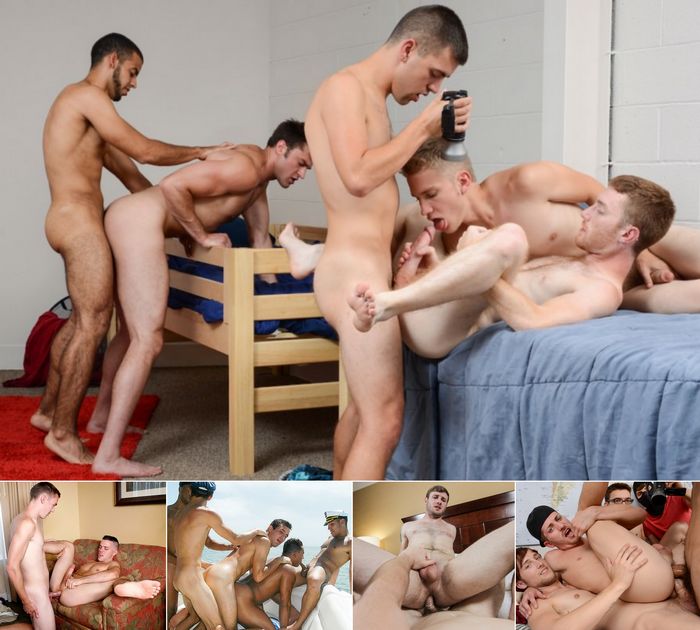 REALITY DUDES is the new gay porn mega-site recently launched. This new amateur style gay porn website comprises of FIVE sub-websites: Boys First Time, Dick Dorm, Gay Revenge, Papi, and Str8 Chaser. Learn more about each websites and some XXX preview pictures below.
BOYS FIRST TIME: If you don't remember your very first time then BFT.com is exactly what your cock needs. These teen boys are not only virgins but they are hot as fuck. Only the cutest and sexiest of boys are getting their cherries popped here. Cum watch as 19-year-old boys suck their first cock and then watch as they struggle to get their tight, virgin holes around hard, throbbing cocks. These boys moan and groan as they handle, for the very first time, the pain mixed with pleasure that is ass fucking. Watch as their faces twinge in pain and then give away to moans of pure anal bliss. The tops are gung and the virgins are eager to be fucked into submission. Cum check out the hottest teen boys online.
DICK DORM: College is the time to experiment with your surroundings and let your inhibitions roam. Not all inhibitions roam to the gay side but there is a large number of dudes that are curious. It is this population of curious straight dudes that make college so fun. If you are lucky enough to seduce even one straight you, then you have succeeded in higher education. All of our dickdorm videos are 100% amateur and shot only by other college boys. So if you never fucked your college roomie or you did and you want to relive it, check us out. The college cocks in these videos are hard and eager for any willing hole they can find. And in these dorm rooms, there are plenty of holes to pick from.
GAY REVENGE: Revenge is not something most people would associate with anything sexual. Revenge fucking, however, has changed that old school thought. Dudes from all over the country send in actual self-shot videos of them sucking or fucking anyone that might piss off their ex boyfriends. And when we say anyone, anyone is exactly the truth. It doesn't matter if the dude they fuck with is their ex's younger brother or even his dad. The only thing that matters is revenge. And our videos are filled with hot dudes that have no boundaries and are only concerned with cock, ass and revenge.
PAPI.COM: If you've never been with a Latino man then you are missing out on an incredible experience. Hispanic men are not only extremely attractive but they redefine the act of sex. They say once you go Black, you never go back but once you go Hispanic, you'll never be manic. These sultry men don't just fuck to get themselves off. These dudes fuck the pleasure into their bottoms. No dude on Papi is satisfied until his hot bottom is completely and utterly fucked open and panting with exhaustion. Check out the largest Hispanic porn site online and see 100s of thick, uncut papi cock.
STR8 CHASER: Every Straight man has his price! We have recruited experts in the art of gay conversion to seek out young hot guys that are strapped for cash and we test their limits by offering them money to get them to fuck. We find our guys in parks, college campuses, outside of gyms and everywhere in between. Some guys are harder to convince than others but these broke guys always break when they see the money! Check these hot straight jocks out as they suck cock and get fucked for the first time!