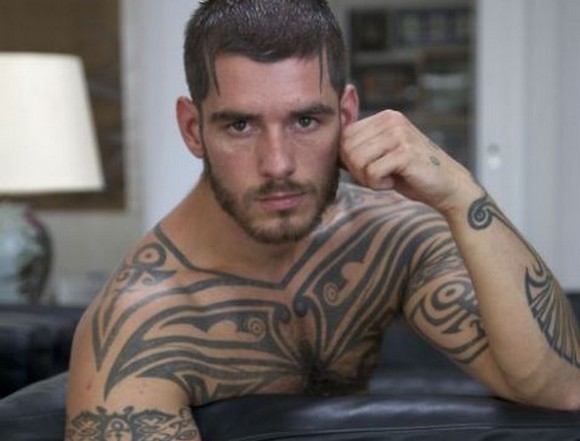 Last month I reported the news about porn star Logan McCree who has fallen in love with a woman. People posted lots of comments in that post including Logan McCree himself. I think everyone should read it. So I post it here:
Hey guys

I just want to set some things straight. I was NEVER straight and i am NOT gay-for-pay.

Just because I have a girlfriend it does not mean that I am attracted to guys any less. I love kissing guys and having sex with them just as much as I used to.
I can understand that some people are pissed off when they hear that I was or am gay-for-pay. but it's just a lie. if you read the whole interview you can see that I was attracted to men ever since I was a little boy. I am very thankful for all the new experiences I made in the last few years and they do not confuse me at all. I know exactly what feels good to me and what doesn't. I just explore sexuality like everyone does. Just imagine I had said in this interview: "I tried fisting and it was a great experience…now I am in a relationship with a fister and I am happy". Nobody would have given a shit. You are just upset, because I fell in love with a girl and because I am happy with her? Hhow can people judge others for loving another person? that is intolerance. That's exactly what gays have to deal with all their lives and now they do it to others.

When I gave that interview I was honest and I did not think that people would react so narrow minded and intolerant. I am very disappointed by the "community" I am "part of".

I did A LOT for the gay/lesbian/bi/transgender/… community in the last 8 years. I fought against drugs, bareback, intolerance and I even try to change porn into something more passionate, realistic and loving. all the videos I shoot for my homepage LoganMcCree.TV are real sexuality. there is no acting. A lot of people love these scenes and appreciate the fact that we show sex in a positive, intimate joyful way.

I think, by not respecting and accepting bisexuals, transgenders, freestylers, … you cause a big damage to the so-called community you pretend to care about.

Tolerance, understanding and love are the keys to a community people want to be part of.

I did not try to hurt or disappoint anybody. I just live my life and try to be happy. if some of you want to hate me for just doing that, just go ahead, but do never complain again, if other people judge you for being who you are.

I wish all of you guys all the best

big hug, Logan