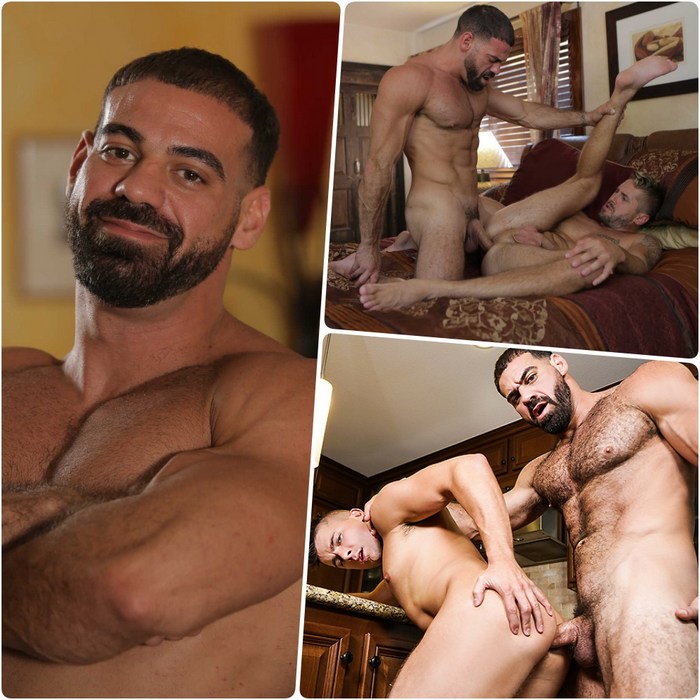 As I reported here last July, gay porn star Ricky Larkin has returned to porn. He has two bareback sex scenes coming. First on Richard.XXX, in "I'm A Married Man" section, you can watch Ricky Larkin fuck Wesley Woods raw. And next Wednesday on Men.com, Ricky Larkin fucks Jake Porter bareback in Writer's Block.
+ Watch Ricky Larkin's Private Videos
+ Check Out Gay Porn Stars & Hot Guys' Sex Tapes On JUSTFOR.FANS
Good-looking Jake Porter is experiencing some writers block while working on his creative assignment. He heads inside to speak with his muscular, hairy roommate, Ricky Larkin, who is busy cleaning up butt naked, with his headphones on full blast. Lean Jake surprises him and offers to keep Ricky's cleaning routine a secret if he lets him suck his dick. Ricky agrees and eventually fucks dark-haired Jake's eager bottom.
+ Ricky Larkin Fucks Jake Porter Bareback in Writer's Block [Coming September 19]
+ MEN.COM
Ricky Larkin and his husband just moved into a new neighborhood and nosey neighbor, Wesley Woods, makes an uninvited appearance. This house has a history of its own… seems a lot of hot sex has taken place here before and Wesley has stories to tell. Watch Wesley show Ricky the "ins and outs" of his new place.
+ Ricky Larkin Fucks Wesley Woods Bareback in I'm A Married Man