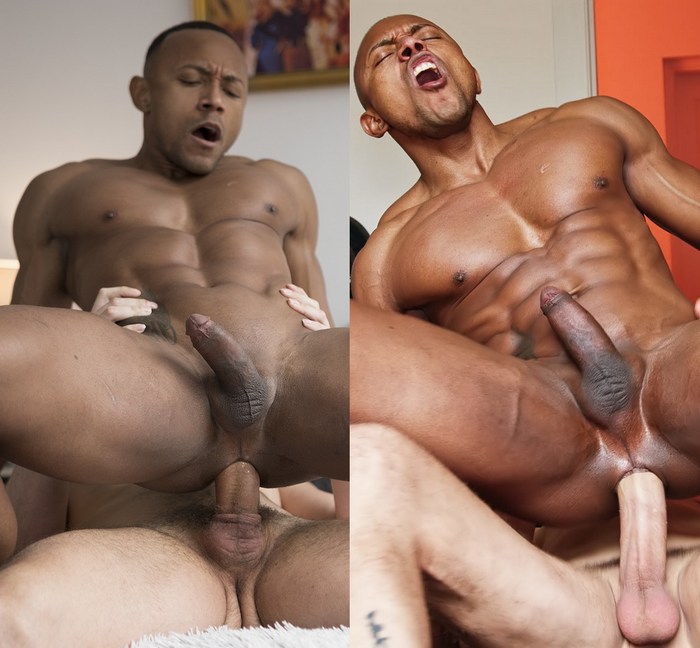 We just watched muscle hunk Santi Sexy get fucked by Ridder Rivera on Kristen Bjorn a couple of days ago. Now we get two more sex scenes of him. First on Fuckermate, he is called Santi Konnor, bottoms for Andy Onassis. And on TimTales, Santi Sexy gets fucked raw by Koldo Goran's gigantic cock. He looks great in both especially when he riding big dick and showing off his muscled body.
Santi's hole was pretty tight the first time we met him. We told him Timtales would do its best to help him loosen it up. Well, now that Santi had his huge-cock-baptism, he's ready for the Spaniard massive cock Koldo. And this time, it fits like a glove. You can tell Santi's craving for that thick raw cock in his hole. He wants more and more. And with a strong muscular body like his, he's gonna be able to take all of Timtales' stable of big dicks. Enjoy as much as he does 🙂
+ Santi Sexy Gets Fucked Bareback By Koldo Goran's Huge Cock on TIMTALES
To celebrate the award for "Best Gay Studio – Public's Choice" that we won at Premios Ninfa 2018, held this week in Barcelona, we want to gift you with one of the hardest and hottest scene that we have filmed so far this year, with two new mates for the first time on Fuckermate.com: Brazilian hunk Andy Onassis, with his massive thick dick and Colombian black stud Santi Konnor, just also got awarded as "Best Gay Newcomer", with his stunning muscular body and his perfect big ass ready to take the hugest cocks around. Be sure not to miss any single moment of this memorable fuck and watch Santi's asshole being pounded and destroyed raw by power top Andy and his body winning a shower of cum at the end! For sure a right prize for such a horny mate!
+ Santi Sexy (aka Santi Konnor) Bottoms For Andy Onassis on FUCKERMATE