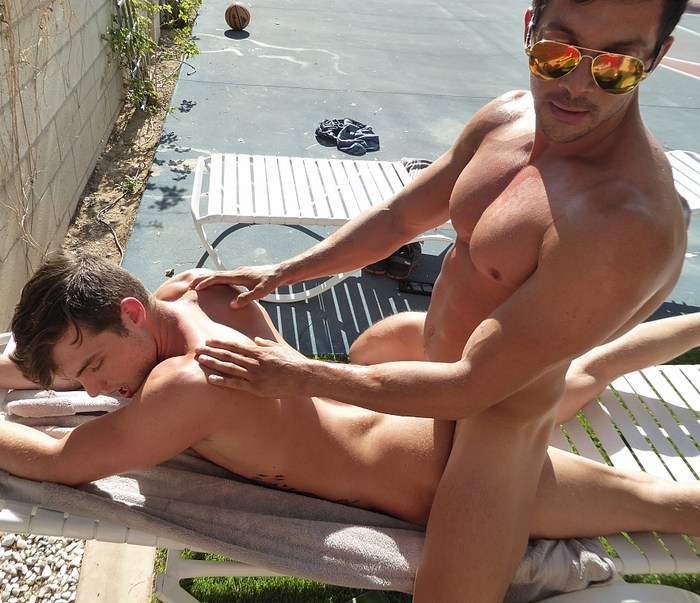 I'm so happy to see Sebastian in action again. That hot and hunky gay porn model who fucked Clark Parker bareback on Guys In Sweatpants last June makes his MaverickMen debut in this new video called Macho Musculoso: Anal Assault where Sebastian fucks Christian Bay raw.
Sebastian Makes MaverickMen Debut and Fucks Christian Bay Raw in Macho Musculoso: Anal Assault #GayPorn @themaverickmen @ChristianBayxxx

MORE ? (https://t.co/XwxmJYghsl) pic.twitter.com/Qm3NlP5Hg4

— Queer Me Now (@QueerMeNow) December 7, 2017
Hola Muchachos! This a special video for all the latin lovers out there. We met Christian and Sebastian on a MaverickMenDirects.com shoot and we instantly fell in love with their hotness. The chemistry between them was thick and sweaty and deeeee-fucking-licous. When Christian saw Sebastian's jacked body, he went right down on his knees. Sebastian was all about it and couldn't wait to stick his tongue up that gorgeous twink's ass. This is some of the hottest and hardest ass pounding that we've ever seen.
+ Sebastian Fucks Christian Bay Raw in Macho Musculoso: Anal Assault

PREVIOUS POST: