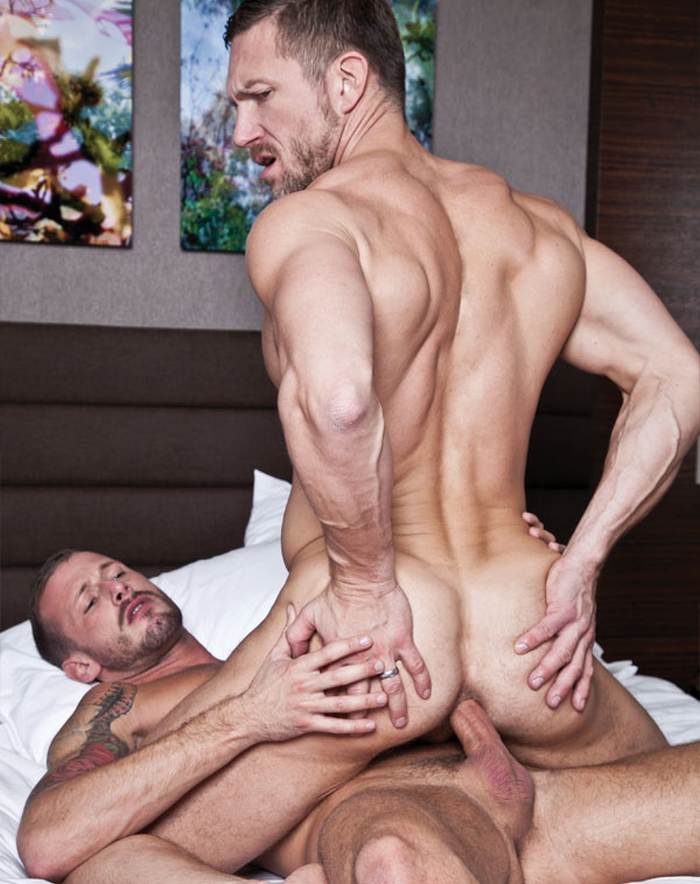 LUCAS ENTERTAINMENT made an announcement that they have signed couple Tomas Brand and Logan Rogue to exclusive contracts.
Both Logan Rogue and Tomas Brand are scheduled to perform two scenes each in the upcoming June production set in Berlin, Germany.
You can watch Tomas Brand and Logan Rogue fuck each other raw in the movie BAREBACK LOVERS.
"They are a rarity in every aspect: Logan and Tomas are two of the best guys I've met in my 20 year in the industry," says Michael Lucas, president and CEO of Lucas Entertainment. "Both are great performers and promoters, and they love the industry they work in… there's never a hint of attitude or impatience with the production team or their scene partners. They are completely reliable and dependable — and that makes for a great on-set environment."

Tomas Brand began performing for Lucas Entertainment in 2013, his debut movie being Bangers & Ass. Tomas has since starred in 17 scenes on Lucas Entertainment and in three fetish scenes on Lucas Raunch. Logan Rogue's premiere scene was in the 2013 release Undress for Success, and has performed in five scenes to date. In all of their scenes, Tomas and Logan always bring 100 percent to the content they create. Their new exclusivity adds them to a roster of the industry's leading porn stars including Dylan James, Michael Lachlan, Leo Alexander, Jake Andrews, Rafael Lords, Drae Axtell, Joey Pele, and many more.

"I always have a great time working with Michael and the people at Lucas Entertainment," says Logan Rogue. "It's one of the world's leading studios with some of the hottest men in the business, damn it! I felt honored when asked if I wanted to join and be an exclusive. Now here I am and I'm looking forward to giving all my fans much more!"

Tomas Brand says the decision to sign was an easy one when Michael approached him. "Ever since I've started my porn career I've always been excited to work with the studio. It's a fun experience on set with the crew and my colleagues," he says. "The staff in the New York office has always been very nice and professional. I've had many offers from other studios over the past year, but I've only been shooting with Lucas Entertainment because they're always serious and treat me with respect."

Tomas and Logan contributed to Lucas Entertainment's content rebranding in 2013 by performing in Bareback Lovers, the studio's first film featuring bareback sex. The movie's four scenes featured real-life couple having condom-less sex, and the capstone scene finished with the outstanding lovemaking of Tomas and Logan.
+ Tomas Brand and Logan Rogue Flip-Fuck in BAREBACK LOVERS
+ More of Tomas Brand | Logan Rogue