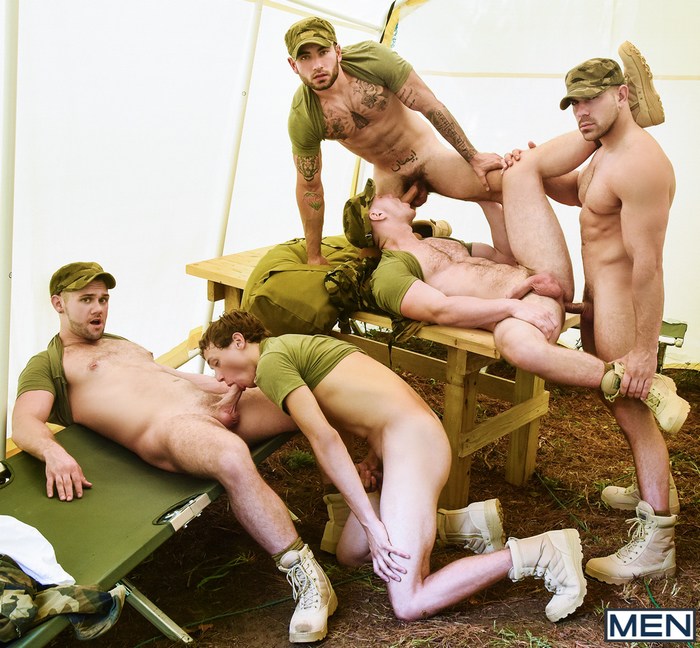 Military-theme gay porn series Cumsassins ends with a 5-man orgy this week. Check out the XXX trailer of this orgy scene starring Vadim Black, Brandon Evans, Blaze Austin, Damien Stone & Zach Country below. Brandon and Blaze bottom in this video. You can also watch Blaze Austin fucks Jake Porter in Pranksters Part 13.
The boys are being sent off to war, but not before one last hot and sexy romp! Slender Zach Country, beefy Damien Stone, chiseled Vadim Black, fit Brandon Evans and muscular Blaze Austin partake in some deep dick sucking before designating who's bottom will get dominated. These hard-bodied men know just how to please each other, and can't wait to let off a satisfying creamy load.
+ Vadim Black, Brandon Evans, Blaze Austin, Damien Stone & Zach Country Orgy in Cumsassins Part 3
On episode 13 of Pranksters, muscular Blaze Austin is giving his unsuspecting victims serious wedgies! Everything is going his way until he ends up on chiseled hunk Jake Porter, who happens to be wearing lacy, pink panties! Brown-haired Blaze jumps back, but he's actually turned on, and follows Jake back home so he can get up close and personal.
+ Blaze Austin Fucks Jake Porter in Pranksters Part 13
Tattooed cutie Theo Ross just wants to get his dick wet, but his roommate slender Nikko Russo really isn't having it. Muscular Theo devises a plan and purchases a 3D dildo sex doll so he can at least get off watching him ride it, but has an even better idea and swaps places with the doll when Theo gets off it to answer the door. He places himself in the same position with his erect dick, and waits for Nikko to come back, and slide onto his cock. How long will it take Nikko to notice?
+ Theo Ross Fucks Nikko Russo in Dick Swap Part 1
+ MEN.COM