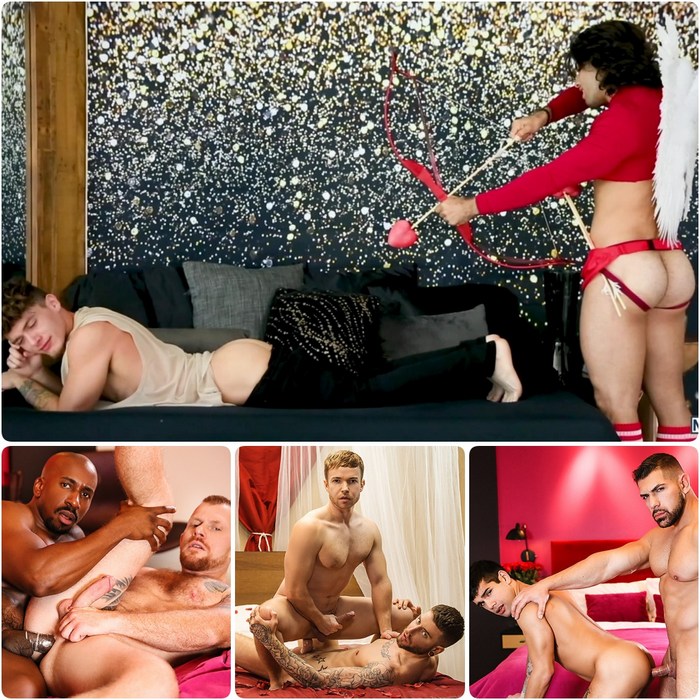 This Valentine's Day, Men.com will release 4 romantic sex scenes from February 12-15. On February 14th, gay porn star Diego Sans plays the God of erotic love, Cupid himself. But this one prefers the love arrow up the butt though. Check out the preview videos of this Valentines-theme sex scenes: Gabriel Cross & Rico Vega flip-fuck in Making Gabriel Perfection, Max Konnor fucks Jack Vidra in Romance For The Night, Diego Sans fucks Luis Rubi in Cupid Takes A Shot, and Damien Stone fucks Ty Mitchell in He Calls To Me.
Handsome, romantic Rico Vega is tired of his boring boyfriend, blond-haired Gabriel Cross. Chiseled Gabriel never does anything special for athletic Rico so he performs a love spell on adorable Gabriel in hopes that it will change him. To his surprise, the spell takes effect, and Gabriel goes out of his way to please him, including rimming with his sweet peach, and stuffing it with his juicy, big cock.
+ Gabriel Cross & Rico Vega Flip-Fuck in Making Gabriel Perfection [February 12]
Tall, redheaded Jack Vidra is having a hard time dealing with his breakup. His ex, sexy muscular Max Konnor, just wanted to focus on work, and could not deal with a relationship. He never did tell ripped Jack what he does, but Jack found out when his friend set him up on a date with an escort. He was shocked to find out that Max is an escort, but at that moment, he didn't care because he just wanted to feel Max's massive black cock one last time.
+ Max Konnor Fucks Jack Vidra in Romance For The Night [February 13]
Adorable, blue-eyed Luis Rubi just got dumped, and right before Valentine's day! He was feeling blue, and lonely until handsome cupid Diego Sans showed up at this door to help him believe in love again. Chiseled Diego puts his magic to work starting with a quick booty rub. He plunged his thick cock deep inside athletic Luis before tasting his sweet hole, and taking another dip inside of him.
+ Diego Sans Fucks Luis Rubi in Cupid Takes A Shot [February 14]
Athletic cutie Ty Mitchell just wants a man for V-day, and sends out a wish into the universe! Handsome, muscular Damien Stone is his granted wish, who appears out of nowhere to tease, please, and fuck Ty with his juicy cock. Horny Ty can't wait to suck on his dick before mounting him for a sweet ride.
+ Damien Stone Fucks Ty Mitchell in He Calls To Me [February 15]