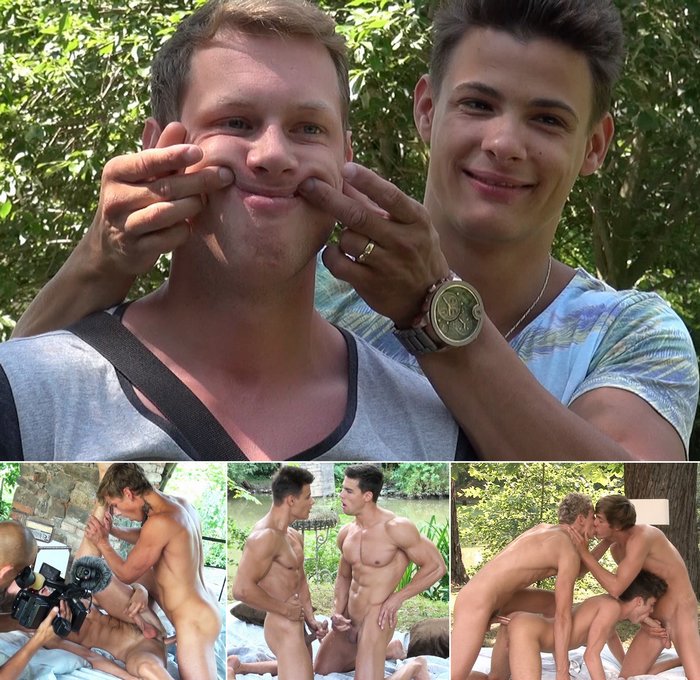 BelAmi's porn series SUMMER BREAK continues and Part 3 features many sexy / goofy stuffs from the sex scenes between Kris Evans & Andrei Karenin and Kevin Warhol fucking Raphael Nyon. Don't forget to check out two recently released sex scenes: Jerome Exupery and Helmut Huxley fuck Jean-Luc Bisset Raw and Roald Ekberg gets fucked bareback by Tim Campbell.
'Where is Adam' is the title of our 3rd Summer Break documentary series, and the reason why will become evident as you watch. We start the day off illustrating the challenges involved in getting all the boys to the set, if not on time, then at least before noon. (and the same seems to apply to some of the production crew as well!). Even though this is one of the days where Kevin has to shoot a scene, he still seems to carry the bulk of the documentary duties, so, let's see right now where is Adam….
+ Watch SUMMER BREAK Gay Porn Behind The Scenes Documentaries on BELAMIONLINE.COM
Summer Break continues at BelAmi with 3 boys that are hot topics over on our forum, Jerome Exupery, Helmut Huxley and Lean-Luc Bisset. Marty Stevens turns the tables on our 3 beauties today, letting them decide on the opening for their scene together. Jerome's idea is that Jean-Luc can catch a magical fish that will allow him to wish for 2 sexy lovers. Helmut is more practical, casting Jean-Luc as the hot gardener, while Jean-Luc himself just wants to get fucked hard by 2 hot guys… I think you can guess whose idea won the day. Without further ado, here is Jean-Luc getting fucked by our 2 Czech BFFs…
+ Jerome Exupery and Helmut Huxley Fuck Jean-Luc Bisset Raw [SUMMER BREAK]
2 of our more experienced guys are the subject of today's update, Tim Campbell and Roald Ekberg. This scene is one of the best examples of how to go from mild to wild during love making. Start off slow and tend and let the energy build naturally until reaching an explosive climax. One of the luckiest things about our models choosing to stay with us for so long is the relationships that they build with each other, and subsequently what we are able to try and bring to you on camera. Roald and Tim show it to us here best.
+ Roald Ekberg Gets Fucked Bareback By Tim Campbell