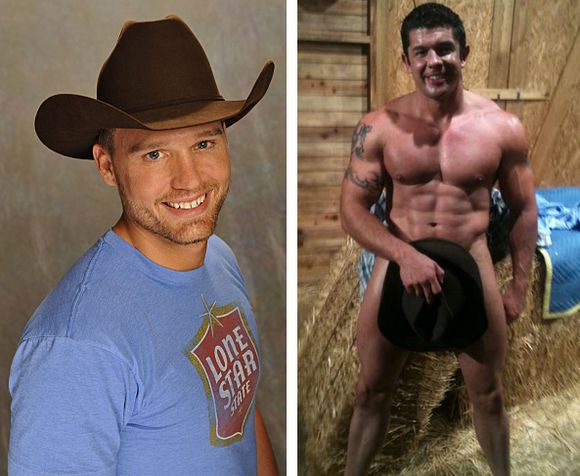 From gossip website TMZ – 'Big Brother's' Gay Cowboy Gets Bucked on Tape:
The gay rodeo champion who was evicted from the "Big Brother 10" house has found a new use for his assless chaps — dude is officially entering the world of gay porn.

18 months after he was evicted from the "BB" house, Steven Daigle was so comfortable in front of the cameras, he decided to sign on to a man-on-man-on-man sex tape with a company called C1R.com.

We're told Daigle was approached with the idea by porn director Chi Chi LaRue — who originally met Daigle at a "Big Brother" wrap party.

Daigle tells us, "I didn't expect my life to take this path, but when I was presented with the opportunity, I dove in head first… literally."

As for the footage, we're told most of the film is already in the can.
Since Steven Daigle was a rodeo competitor and champion bull rider in the gay rodeo circuit (source). It comes natural that his gay porn debut is a cowboy-theme porn movie. And Chi Chi LaRue just posted a HOT picture of hunky porn star Josh Griffin with nothing but a cowboy hat. I assume Josh is one of the cast of this porn project.
Now the question is, what is Steven Daigle role in this movie? Top? Bottom? Solo? or just a cameo appearance?
*UPDATE*: The movie STEVEN DAIGLE XXXPOSED is available for pre-order on C1R.com now! The cast are Steven Daigle, Slade, Jeremy Bilding, Josh Griffin, Johnny Hazzard, Brandon Lewis, Paul Wagner with Jimmy Durano from College Dudes 247! Oh, and Steven Daigle's profile mentions that he's "versatile".