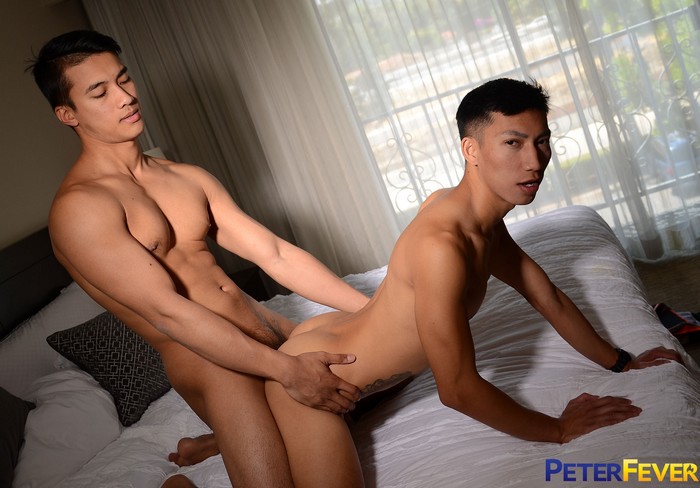 I broke the news here back in April that hot gay porn star Ken Ott has returned to porn and shooting sex scenes with Peter Fever. His first sex scene since his comeback is now online. It's called Mr. Hardball: The First Pitch where Ken Ott fucks David Ace. I hope he will bottom in his upcoming scenes.
You can also watch hot Asian jock Alex Chu make bottoming debut getting fucked by Gabe at Straight Men XXX.
Ken Ott Fucks David Ace @PeterFever @KenOttXXX @dannyzeeman @GayPornResource #GayPorn

MORE??https://t.co/rwDU0qnpJg?? pic.twitter.com/MHLjLnl93z

— Queer Me Now (@QueerMeNow) June 17, 2017
Workouts can bring relief, but not in my case; David Ace took care of the rest of the guys, but not the pitcher. Willing to catch for me, we add some nice warm-ups before playing ball. Sucking David's dick, I work him up then lie back and get mine. Gloved up, I show my teammate more than just oral; batter up and in. Arching his back, David gives me his hole as our hard bodies interlock. Riding my cock, the boy grabs the headboard and grinds. Edging, I lay David onto his back, slide into home and stretch his ass; fuck that feels so good he whimpers. Pounding the cum out of him, I watch while he explodes all over his torso, then I follow with my own abundant release. Now pitching exclusively for the PeterFever.com team, our own Ken Ott is headed for the big leagues.
+ Ken Ott Fucks David Ace in Mr. Hardball: The First Pitch
Alex Chu Gets Fucked By Gabe @StraightMenXXX Freaky Fuck @AlexxxVersatile @straightmenxxx @PeterFever

MOREMORE??https://t.co/h3sF3fnQjY?? pic.twitter.com/TJi5iFZKoO

— Queer Me Now (@QueerMeNow) June 17, 2017
+ Alex Chu Gets Fucked By Gabe in STRAIGHTMEN XXX's Freaky Fuck