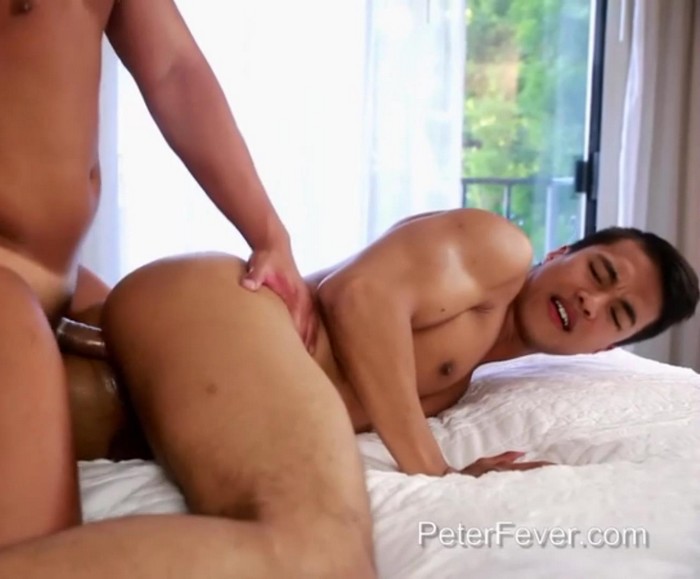 In his first sex scene for PeterFever, hot Asian gay porn star Ken Ott fucks David Ace in Mr. Hardball: The First Pitch. Now Ken Ott is back for Part 2 and he's a bottom this time. If you enjoyed Ken bottoming on GayHoopla and VoyeurBoys, don't miss this new video Ken Ott gets fucked by Alex Chu.
I also have a shout out video from two muscle hunks Ken Ott and Jessie Lee from their recent porn shoot for you guys.
[USE THIS LINK] To Get 50% OFF PeterFever.com
A Shout Out from Asian Muscle Hunks @KenOttXXX and @MuscularJessie on Set of @PeterFever @dannyzeeman

MORE ? (https://t.co/r1IwDAUNDJ) pic.twitter.com/sOTZcByRSU

— Queer Me Now (@QueerMeNow) August 13, 2017
A Shout Out from Gay Porn Stars Ken Ott and Jessie Lee
While I'm stretched out and relaxing, Alex Chu wakes me; I show him what a real "team player" does. Hard and horny, he sits on me, and then licks me down. Sucking his "bat," After, I turn and blow while he has a go at my hole and dick. Happily, I lie down and change positions; I'll be catching for Alex today.
Ken Ott Gets Fucked By Alex Chu #GayPorn @PeterFever @KenOttXXX @AlexxxVersatile @dannyzeeman

MORE ? (https://t.co/BJc2vszYyi) pic.twitter.com/xdCU7Nqm1m

— Queer Me Now (@QueerMeNow) August 13, 2017
Pounding as I "cheer," Alex thrusts in deep; this top is "grounding" with a lot of ball. Taking to riding atop, I bounce and jerk, then turn to get a hole full of Alex; I also pay "lip service" to him. In the home stretch, I go on my back and look on as the "bat boy" finishes. Close, Alex pulls out and blows on my chest; I follow with a creamy homerun that is soon "scooped up." Ken Ott ends this PeterFever.com game with a bang!
[USE THIS LINK] To Get 50% OFF PeterFever.com