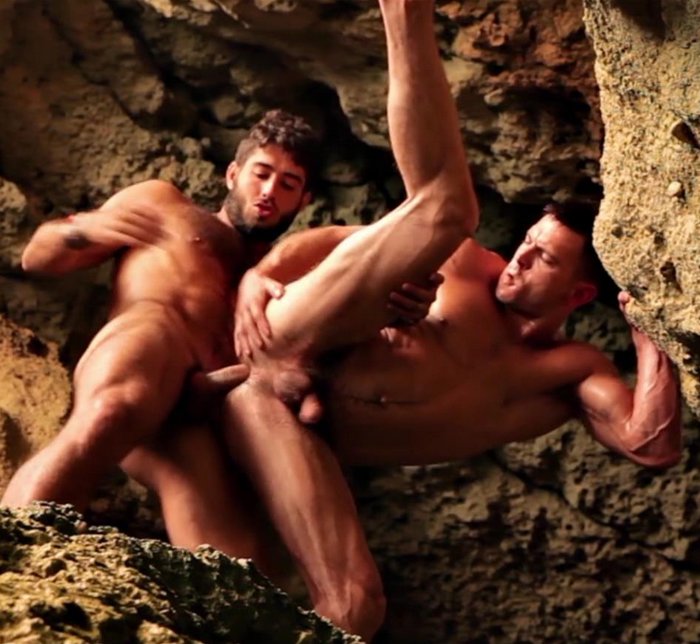 As I hinted about this upcoming scene last month, fans can watch popular British gay porn star Paddy O'Brian BOTTOM again in the finale of PIRATES: A Gay XXX Parody. (Those of you who want to see Diego Sans bottom have to wait though.) The scene will be online next week on Friday, June 17 but the XXX trailer of this hot scene where Paddy O'Brian gets his muscled butt fucked by Diego Sans in a cave is out now.
Paddy O'Brian BOTTOMS For Diego Sans in PIRATES @Men @paddyobrian86 @RB_DiegoSans @MarcMacNamara @alter_sin

MORE??https://t.co/DImtQZEHhD?? pic.twitter.com/NF4ZM5uEdC

— Queer Me Now (@QueerMeNow) June 9, 2017
Paddy is revealed to be a dirty cursed swashbuckler, the man tales are told of across the seven seas. Diego makes a deal to hand over Johnny to Paddy, in turn, granting him the treasure that was hidden from him 18 years ago. Once untied, Diego gets his way with Paddy's body.
+ Paddy O'Brian Bottoms For Diego Sans in Pirates: A Gay XXX Parody Part 4 [Coming June 17]
Coming Soon: @JohnnyRapidATL @GabrielCrossXXX @JimmyDurano @TeddyTorresXXX in PIRATES XXX @alter_sin

MORE ??https://t.co/07TxX0NfkP?? pic.twitter.com/Y7Kovcdcz2

— Queer Me Now (@QueerMeNow) June 2, 2017
Johnny learns the dangers of the cursed treasure he wears around his neck. Once "rescued" by Paddy and Gabriel, he learns of their true motives. He assists Jimmy Durano and Teddy Torres in tempting Gabriel Cross to get them out of their current predicament, seducing the captain's guard with some good ole' fashion pirate pillaging.
+ Johnny Rapid, Gabriel Cross, Jimmy Durano & Teddy Torres in Pirates: A Gay XXX Parody Part 3
+ MEN.COM