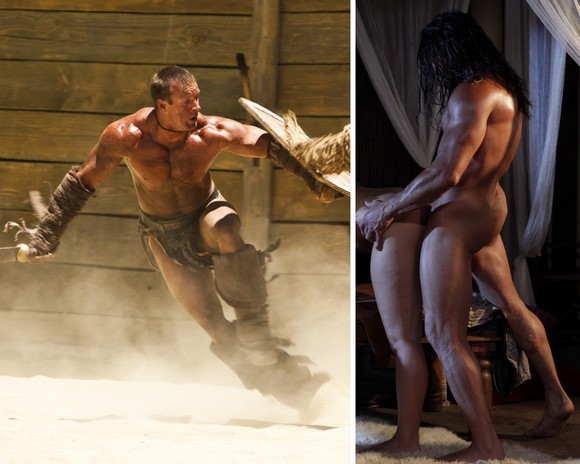 Last year I covered this straight porn movie I want to watch, Spartacus MMXII The Beginning. It's a porn parody to Starz's Spartacus series. It received surprisingly positive responses from my readers. Marcus London, the star and director of this movie even commented on that blog post and mentioned the possibility of a gay scene in the second part, The Rise of Crixus.
Now, while fans are excited to see a teaser of Spartacus season 3 – War of the Damned. Marcus London also released another cool teaser trailer of his porn parody.
First, check out the full frontal nudity scene from Spartacus: Vengence. Then watch the trailer of its porn parody Spartacus MMXII The Beginning below. The lines between mainstream TV show and porn are blurred!
I'm excited about this straight porn movie because not many straight porn is full of hot muscular guys like this one.
[UPDATE] I just got this great news from Marcus London!
We are in talks to possibly do the full blown gay version with a new twist and different story. Ask your readers who they would like to see in it.
Isn't that great? Who would you like to see in the gay version of Spartacus XXX? Post your answer in comment or tweet @MarcusLondon.
I have a long list of guys I would like to see in Spartacus XXX – Mitchell Rock, Trenton Ducati, Tristan Baldwin, Robert Van Damme, Race Cooper, Dylan Roberts, Cavin Knight, Marc Dylan, Darius Soli, Chris Tyler, Alex Brinsky, Sergio Serrano, Milos Zambo, David Dirdam, Adrian Toledo and Tyler Saint to name a few LOL.