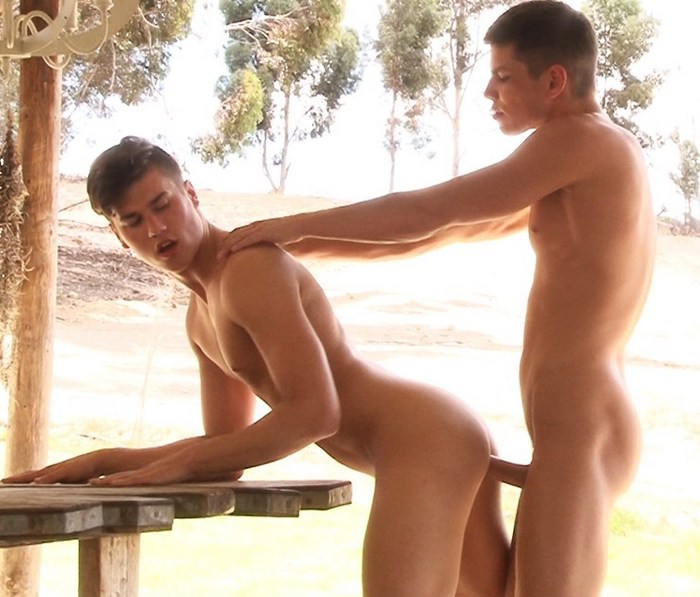 It's Jambo Africa update from BelAmi again this week: Adam Archuleta blows huge cumshot after fucking Serge Cavalli, cutie Andre Boleyn & Enrique have a sweaty fuck fest, and behind the scenes documentary African Souvenirs Part 11.
After a quick dip in the chilly pool, Andre suggests to Enrique that they find somewhere warm to continue the seduction started outside. Since Andre is definitely the 'veteran' of this scene it is great to see him putting all of his talents as a lover to work here to please Enrique. Passionate kissing, sensual sucking, gentle teasing of his asshole with fingers and tongue and a superb fucking. Enrique for his part seems to respond from some primal place deep within that cries out for more of Andre's dick.
+ Andre Boleyn Fucks Enrique Vera Raw
Trips away with our boys can be a little ritualistic at times, especially with Kevin and Adam in charge of the camera. The daily 'erection control', the flirting and of course Kevin's ever-present admiration for big dicks. Today we include some backstage footage of a home video that we actually included in our Freshmen programming in August between Jerry and Pip as well as Enrique and Jerome's scene together. Jarrod, who you saw in Monday's photoset is back entertaining the boys with his harmonica, Kevin is shocked that they have parking tickets in Africa and Adam is indulging in his 2nd favorite activity, eating… everything in the life of our boys seems perfectly idyllic.
Our final scene for this week's Jambo Africa brings us our diary cameraman, Adam Archuleta together with Serge Cavalli. This scene comes from the farm location that you have seen in the documentaries and is one of a trio of scenes that we shot there. While we don't get beaches, sand and surf, we do get a new look at a different part of South Africa and it's wide open, and rural interior. Both boys here seem oddly suited to this environment and relish the chance of some outdoor, rural love-making.
+ Adam Archuleta Fucks Serge Cavalli Bareback