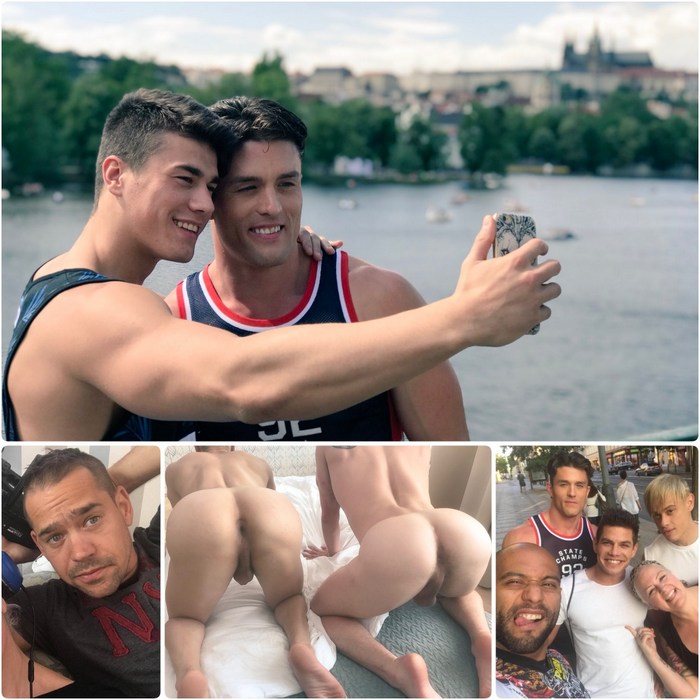 In case you missed the news, mr. Pam and Leo Forte are now in Prague, filming an upcoming gay porn movie The Last Rose which is a co-production between NAKEDSWORD and BELAMI. You will see some behind the scenes pictures here.
Today I have more behind the scenes pictures for you. Two BelAmi gay porn stars Serge Cavalli and Adam Archuleta working with American porn star Ryan Rose and Alam Wernik. You can also see Rick Lautner and former gay porn star Johan Paulik working behind the scenes too.
Be sure to check out these hot sex scenes from BelAmi: Ariel Vanean fucks Jordan Faris, Dylan Maguire bottoms for Wes Latham, and a solo video of hottie Daniel Mathis.
[UPDATE] Added a picture of Alam Wernik with 3 BelAmi gay porn stars Jon Kael, Andrei Karenin & Joaquin Arrenas.
BelAmi Gay Porn Stars Adam Archuleta and Serge Cavalli with Ryan Rose and Alam Wernik on The Set of NakedSword / BelAmi co-production. mr. Pam, Johan Paulik, Leo Forte, Rick Lautner Working Behind The Scenes.
+ BELAMIONLINE.COM | NAKEDSWORD.COM
Today we have our 2nd (and final) scene with Wes Latham. With only 2 scenes under his belt, Wes definitely qualifies for our 'guest star' category. His partner, on the other hand, is well known to everyone. This is Dylan's first scene this year and it also marks the 5th anniversary of his first appearance on BelAmi (September 2013). Dylan is a model that always gives a great performance, and although he may be a little 'adventurous' in real life, he is always a model that is reliable and easy to work with. You will be seeing more of Dylan this year, and also in the next season of Jambo Africa.
+ Wes Latham Fucks Dylan Maguire in Flirting With Porn
We're please to welcome back the sexy and blond Daniel Mathis as our model of the week. Eliot has empahsised the 'jock' aspect of Daniel's physique in today's set, starting the shoot in some sexy bottomless briefs. With Daniel however it is not just one thing that makes him such a stunning model, but rather the overall package.
Ariel Vanean is back again today, this time without the beard in this scene with Jordan Faris. Even though both boys give great performances here today, and Jordan's mastery of oral skills is of particular note, Ariel will be back again with us as model of the week later in the month as we continue our Art Collection series by Joan Crisol.